"In Spain, the dead are more alive than the dead of any other country in the world." – Federico Garcia Lorca
The history of Spanish photography is of course closely tied to the political discourses of the early 20th century. Photojournalism in Spain served as an objective transcription of the realities of conflict as well as influencing public opinion overseas. Though constrained by censorship, a new generation of photographers pushed the boundaries of conventional photographic storytelling with an activist stance and vitality.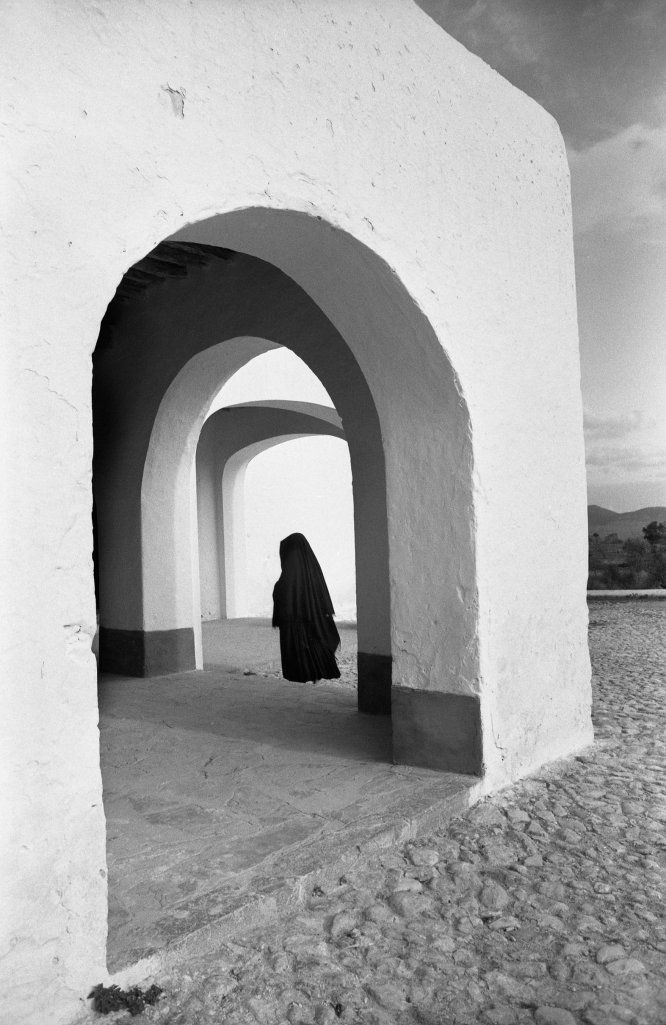 1. José Suárez – Ibiza, 1960
José Suárez was a Galician photographer with an enigmatic character, known by family and friends to never be without his camera. With a reflexive and deeply personal vision governed by a rich cultural knowledge, Suárez's photos of the Galician region are some of the most well-informed and intuitive photographs of Spain. Imbibing his images with symbolic meanings, each element is present to create a rich tapestry of subtle metaphors aimed at magnifying the people whom he chose to photograph.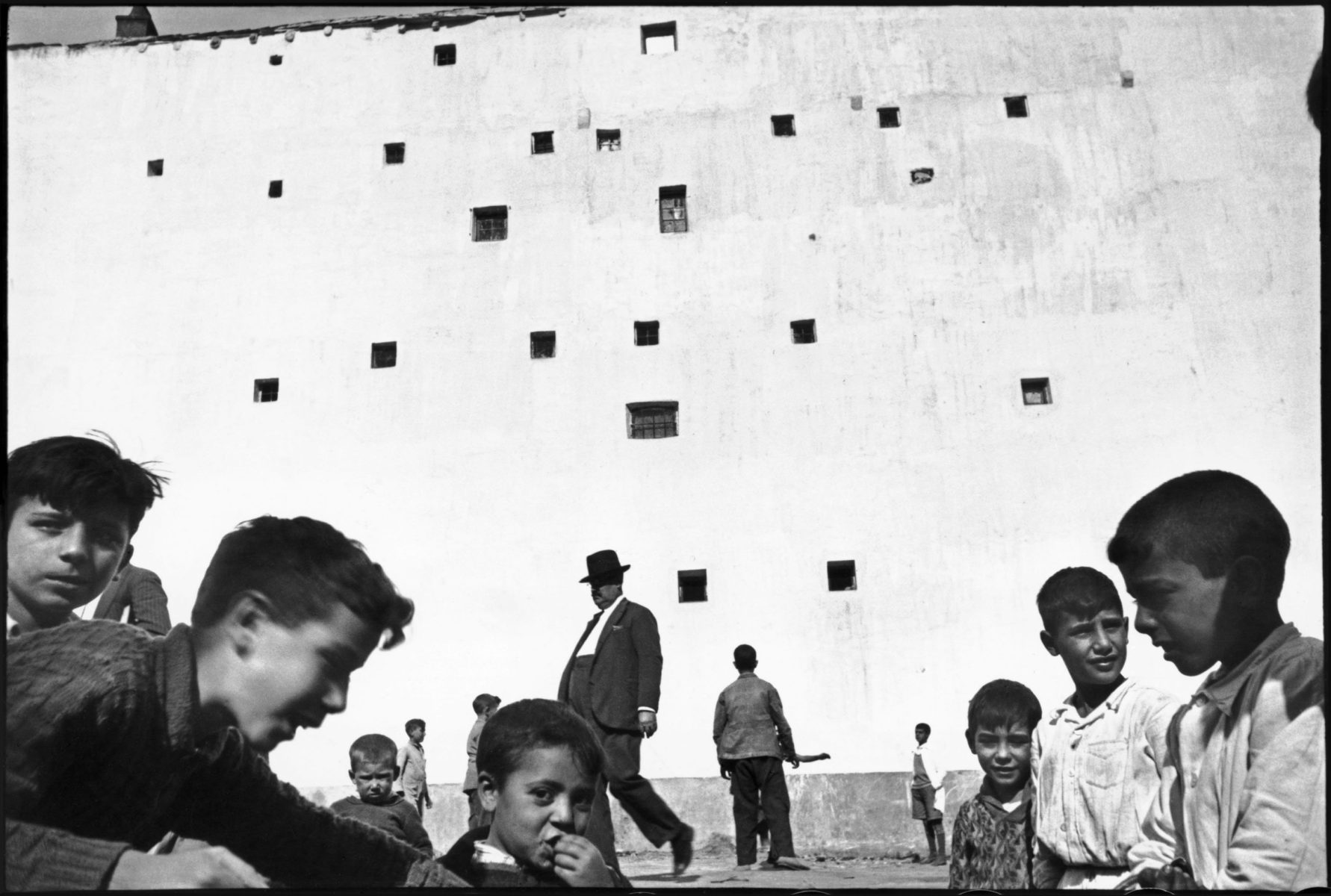 2. Henri Cartier-Bresson – Spain, 1933
In 1931 Henri Cartier-Bresson first picked up the camera, inspired by the contemporary artistic movements of cubism and surrealism, but determined to take these influences to the streets. His bold collage-like compositions have made his style instantly recognisable, and he is widely considered the best photographer of all time.
This multi-layered image is a perfect example of his ability to evoke photographic surrealism. Some of the subjects in the frame address the viewer, others continue their activities undisturbed, the small windows in the background recall the cubist influences of the era, and the picture's space is intentionally ambiguous, like a collage of cut-out elements rather than a photograph.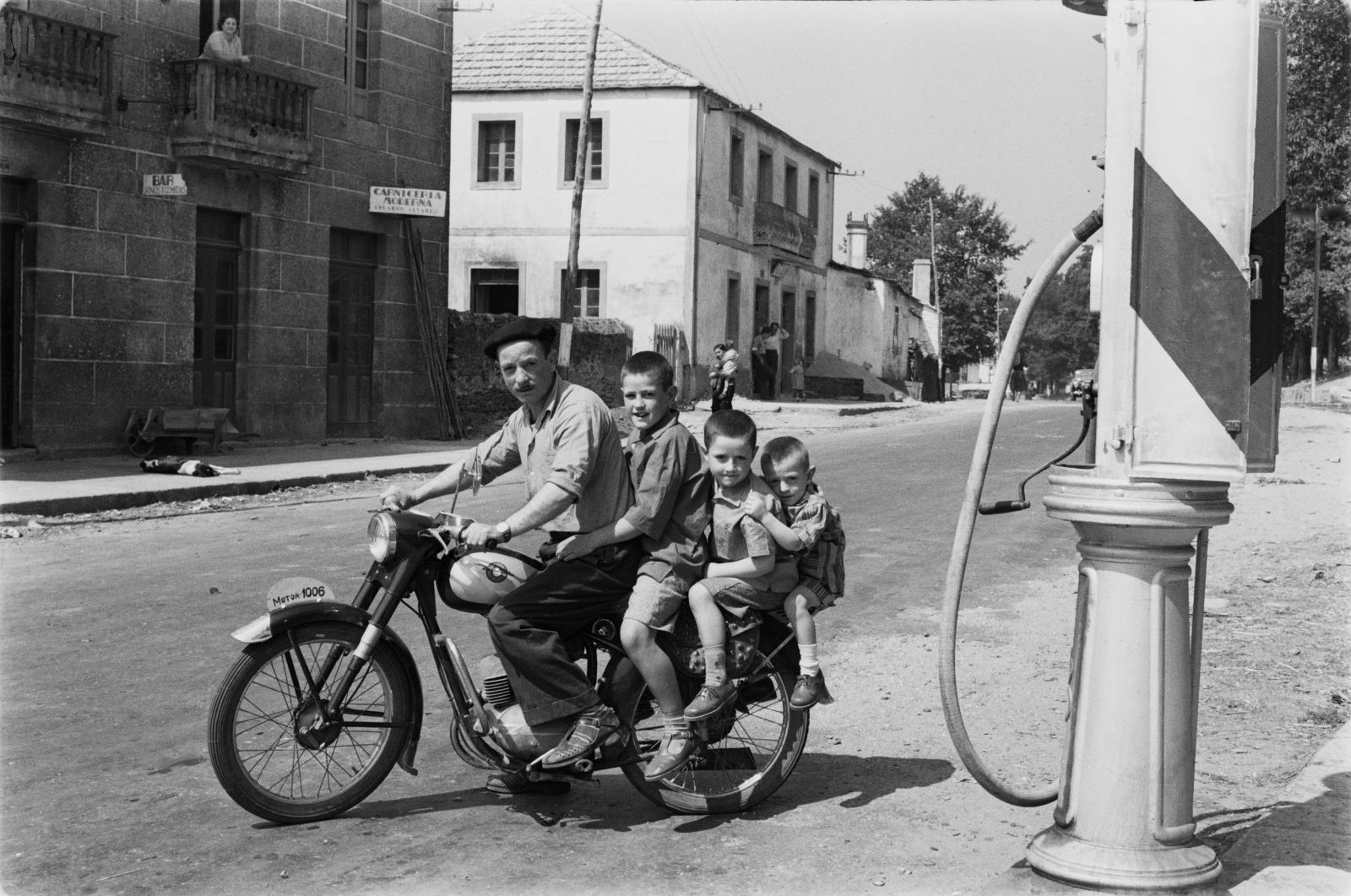 3. Virxilio Vieitez – Fermín, Avelino, Bautista y Pepiño en Soutelo de Montes, 1957 
Virxilio Vietez's work is characterised by a modest lack of sociological pretensions, but nonetheless an innate understanding of his fellow humans within Spanish society. An autodidact who produced photographs fervently in his native region of Terra de Montes, Galicia, from 1957 until his retirement in 1980, Vieitez's work was not discovered until the 90's. His portraits are simple and well composed with bare, frontal framing and rigid poses but their existence outside of the studio break the conventions of formal portraits of his day. His work largely features the working classes in their daily lives.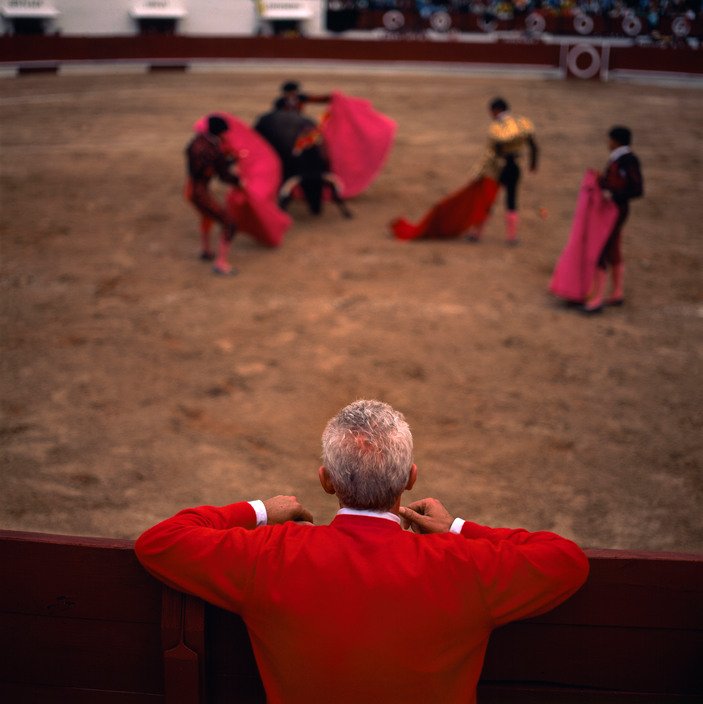 4. Miguel Rio Branco – Bullfighting in Madrid, 1995
Miguel Rio Branco's clear interest lies in places full of colour, drama and contrast. His pictorial sensibility is governed primarily by these elements, but also by quiet contemplative moments of action.
This iconic image of bullfighters preparing themselves in the arena as they are patiently observed by an onlooker directs our gaze and helps us relate to the solitary spectator. Directing our vision towards this character rather than the bullfighters highlights Branco's interest in everyday people.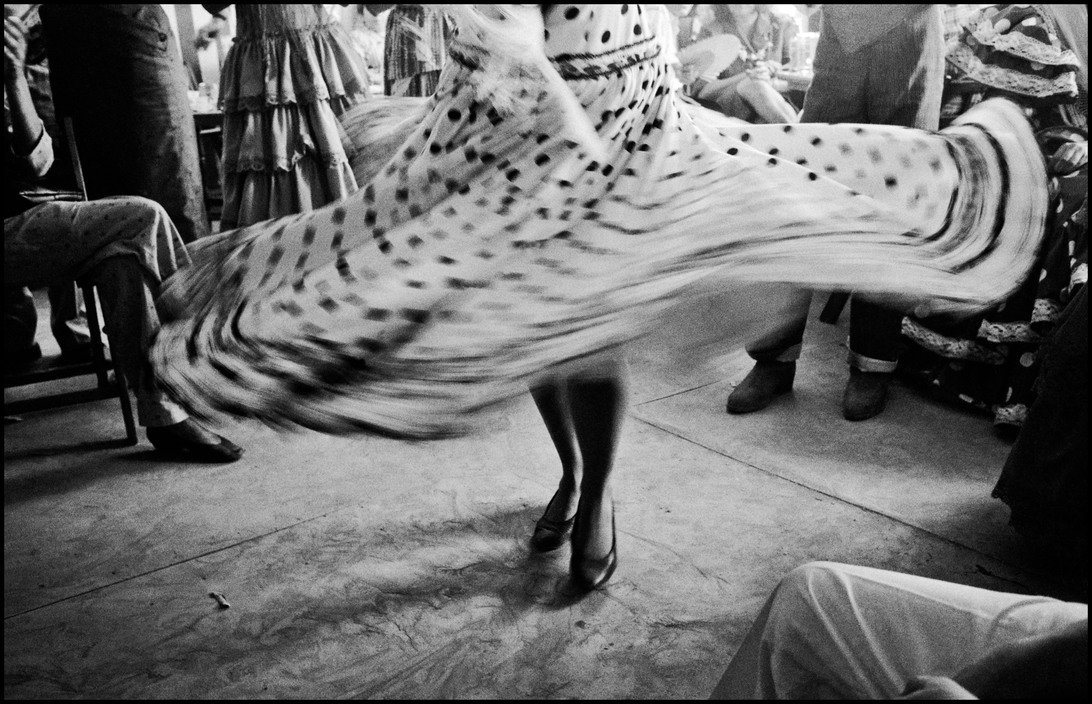 5. Inge Morath – Dancer's skirt, Feria in Sevilla, 1987
Inge Morath's photographs of Spain show a deep love and appreciation for the country. Shot over the course of several visits, her photos remain somewhat removed, never focusing to heavily on the squalor of poverty through romantic gloom. As a humanist photographer she recognized the dignity of her subjects, photographing them in the midst of daily life. Her thoughtful and confident compositions blend a genuine freedom of vision with the respect and distance her subjects deserved.
"I felt a great affinity for Spain the moment I had my first look at the country. I was also struck by a recognition of something that unaccountably stirred a deep layer of feeling inside me, going back to early youth when all the pores of one's being are open, waiting for a significant encounter."  – Inge Morath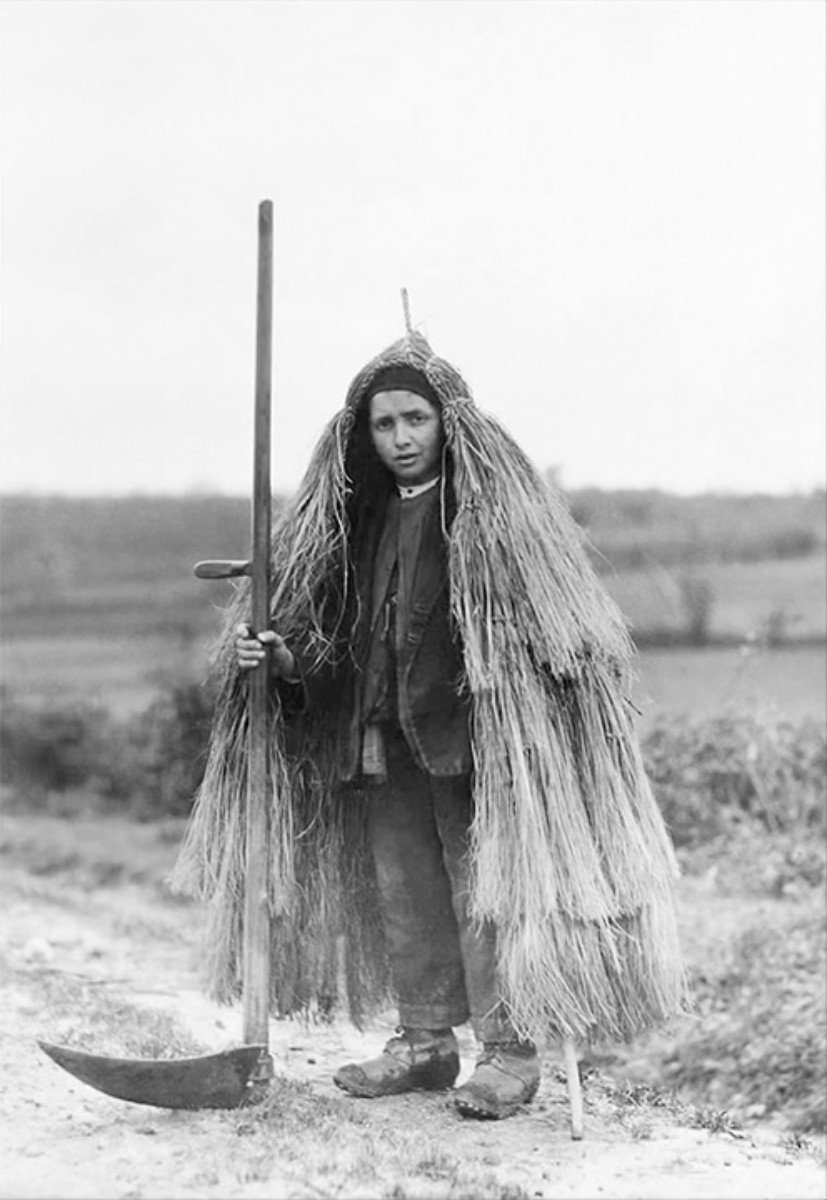 6. Ruth Matilda Anderson – Neno de Lalín con coroza, 1926
In the 1920's, Ruth Matilda Anderson undertook an assignment to document Spanish culture for The Hispanic Society of America, working for a decade to record everything from ritualistic customs to domestic chores. For over a decade she travelled from Galicia to Asturias, from Leon to Andalusia and further, producing 10,000 images of Spanish people and landscapes in one of the most comprehensive and important anthropological studies of Spain to date.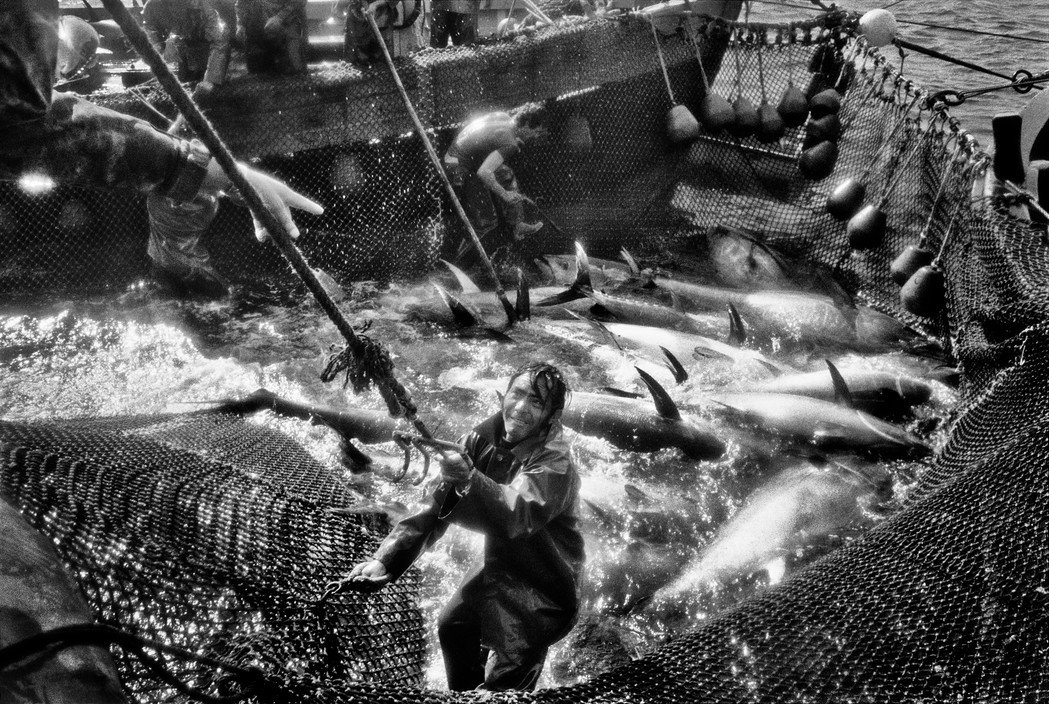 7. Jean Gaumy – La Madrague, 1982
Jean Gaumy's incredibly visceral photo of what could be an unremarkable fishing scene, transforms the monotony of daily work into a dazzling and dramatic tableau where life and death collide. Picturing fishermen and shoalers casting the "madrague" – a vast net with various chambers used to catch Tuna fish on their way from the Atlantic Ocean to the Mediterranean, Gaumy also captures the glint and fury of life on the water. Casting their net once a shoal of fish has been sighted, the fisherman pull up their nets around the so-called "chamber of death", prodding the restless tuna with spears and pitchforks.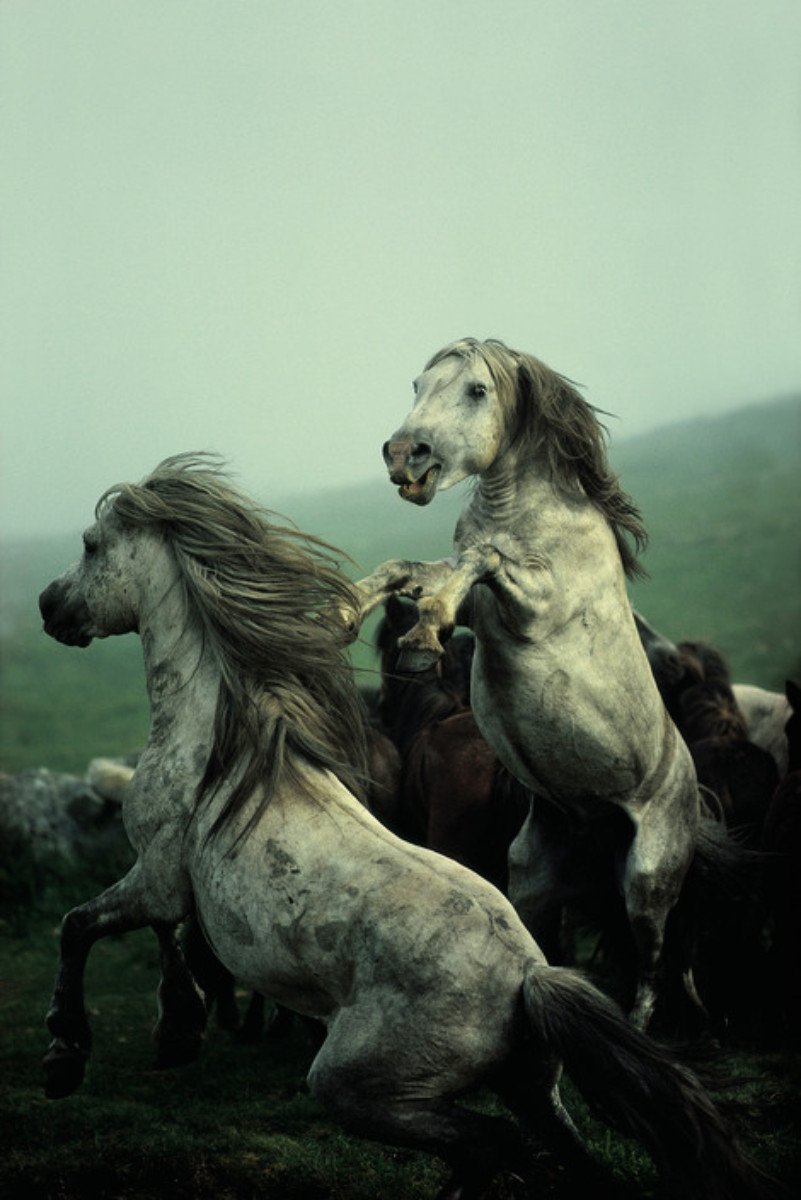 8. David Alan Harvey – Wild horse roundup, Galicia, 1977
Harvey's image of a wild horse roundup in Galicia was his attempt to present the machismo of Spanish culture. After weeks of shooting Spain on assignment for National Geographic, bullfighting seemed like a cliché. Instead, Harvey chose to focus on an annual wild horse roundup where the men would wrestle horses to the ground in a ritualistic show of strength and courage. It would take 3-4 men to bring down a horse. This image shows the wildness and ferocity of the horses before they have been taken down.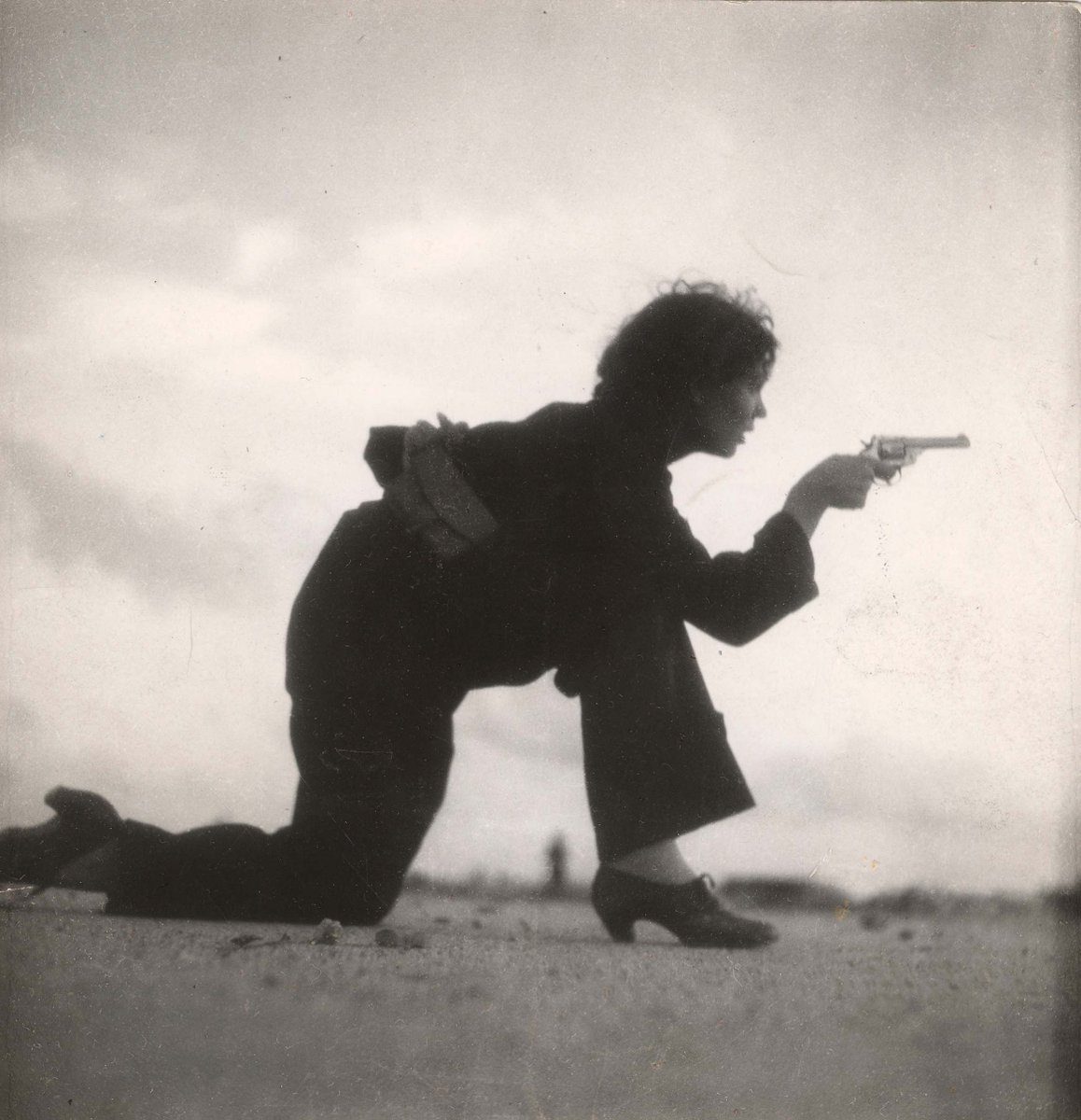 9. Gerda Taro – Woman training for Spanish militia, 1936
Taro, whose name has faded into obscurity, was undoubtedly the most pioneering female photojournalist of her time, photographing the Spanish Civil War alongside her artistic partner and lover, Robert Capa. Yet her life was cut short when her car was hit by a military tank as it rode into combat. However, her promising body of work shows a talent far beyond her years, and courage and audacity not often outwardly remembered amongst women at the time.
Her striking but little-known photos provide a record of an important moment in the history of war photography as well as symbolizing the changing possibilities from women in the 1930's. Her photographs of female militia members in Barcelona and Valencia are a testament to the rewriting of history and forgotten women of war.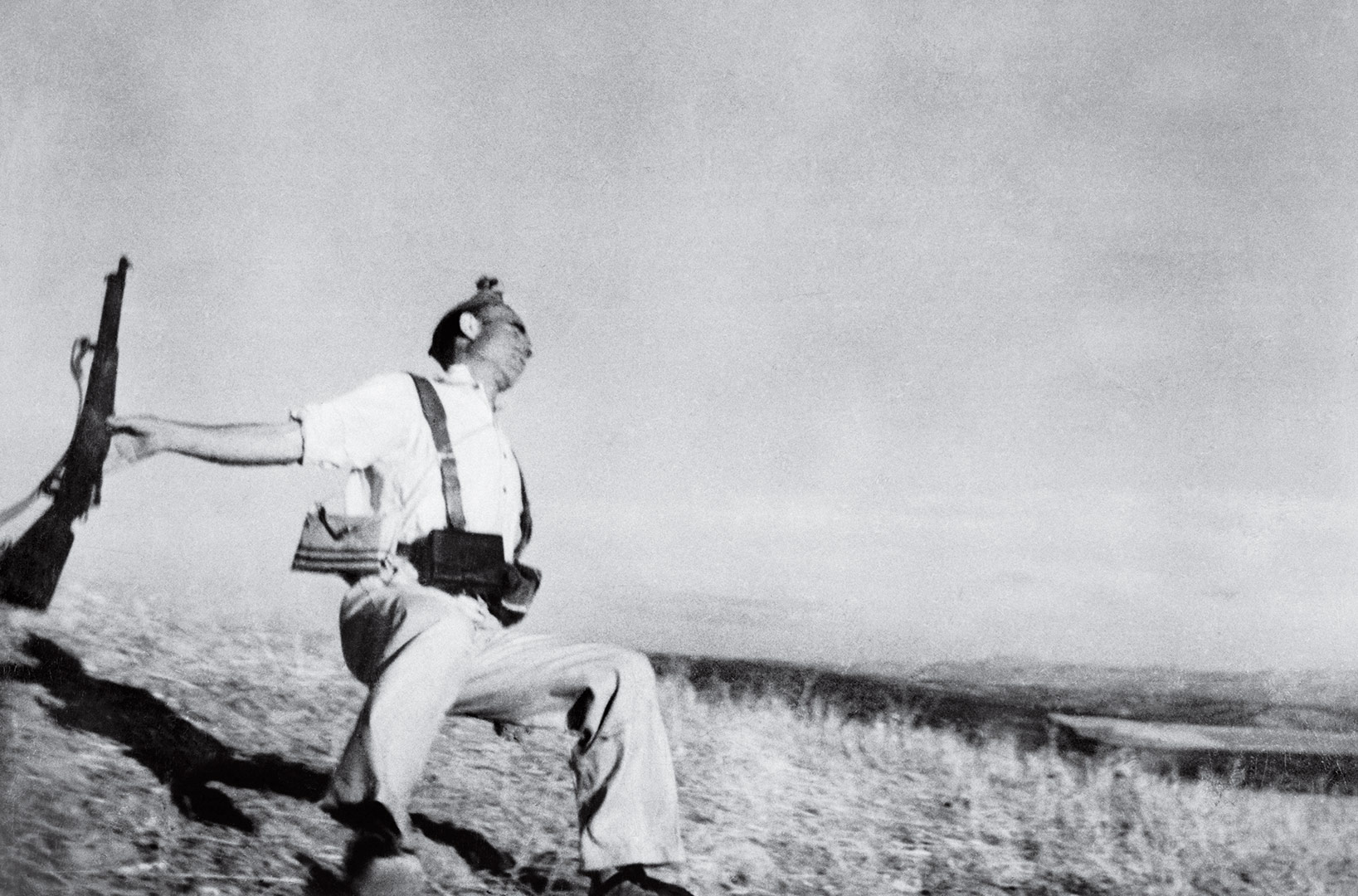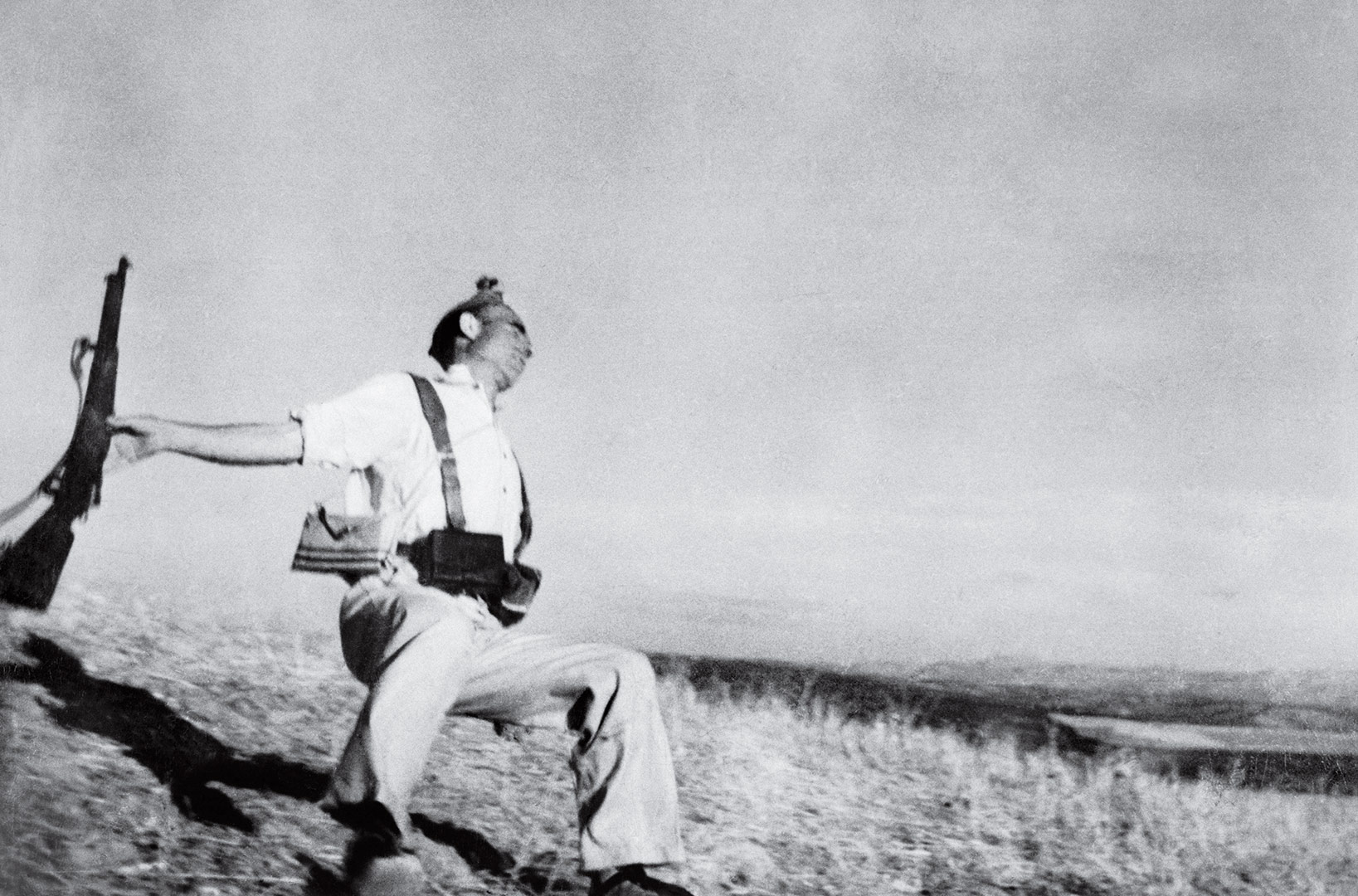 10. Robert Capa- The Falling Soldier, 1936
In 1936, Robert Capa, working on assignment was deep in the trenches of the Spanish Civil War with Republican Militiamen. In turn, the men would stand and charge, firing their old rifles at the machine guns manned by troops loyal to Francisco Franco; the Spanish dictator whom the Republicans were combating. Most of the time these militiamen would be shot before inflicting any damage, and because of the flying bullets, Capa had to hold his camera above his head and click the shutter, hoping for the best.
This was how he made his most famous photograph, which is widely considered one of the best combat photographs ever made, and showed the first battlefield death in action. An image full of drama and movement, it shows the moment this soldier is killed. The Falling Soldier elevated war photography to a new level, showing how important, albeit dangerous, it is for photographers to be in the middle of the action.
All images © their respective owners