Mali is a landlocked country whose northern borders reach deep into the middle of the Sahara Desert, whilst the country's southern part is surrounded by the Niger and Senegal rivers. The nation lies in the torrid zone and is amongst the hottest countries in the world.

After independence from France in 1960, Mali suffered droughts, rebellions, a coup and 23 years of military dictatorship until democratic elections in 1992. Yet despite the harsh geographical and political conditions in the nation, it has produced some of the world's most brilliant photographers, and continues to draw the attention of photojournalists internationally.
1. Malick Sidibe – Kadiatou Touré avec mes verres fumés, 1969
Malick Sidibe, "the Eye of Bamako", captured the euphoric life of the youth of Bamako from the 50's through to the 70's. His life's work focuses around scenes of celebration and depicts the burgeoning rise of pop culture in the Malian capital. As well as attending and shooting hundreds of parties, Sidibe prolifically documented young people in his studio, striking poses against patterned backdrops. Rather than focussing on a narrative, Sidibe was interested in faces: "It's a world, someone's face," he once said "When I capture it, I see the future of the world."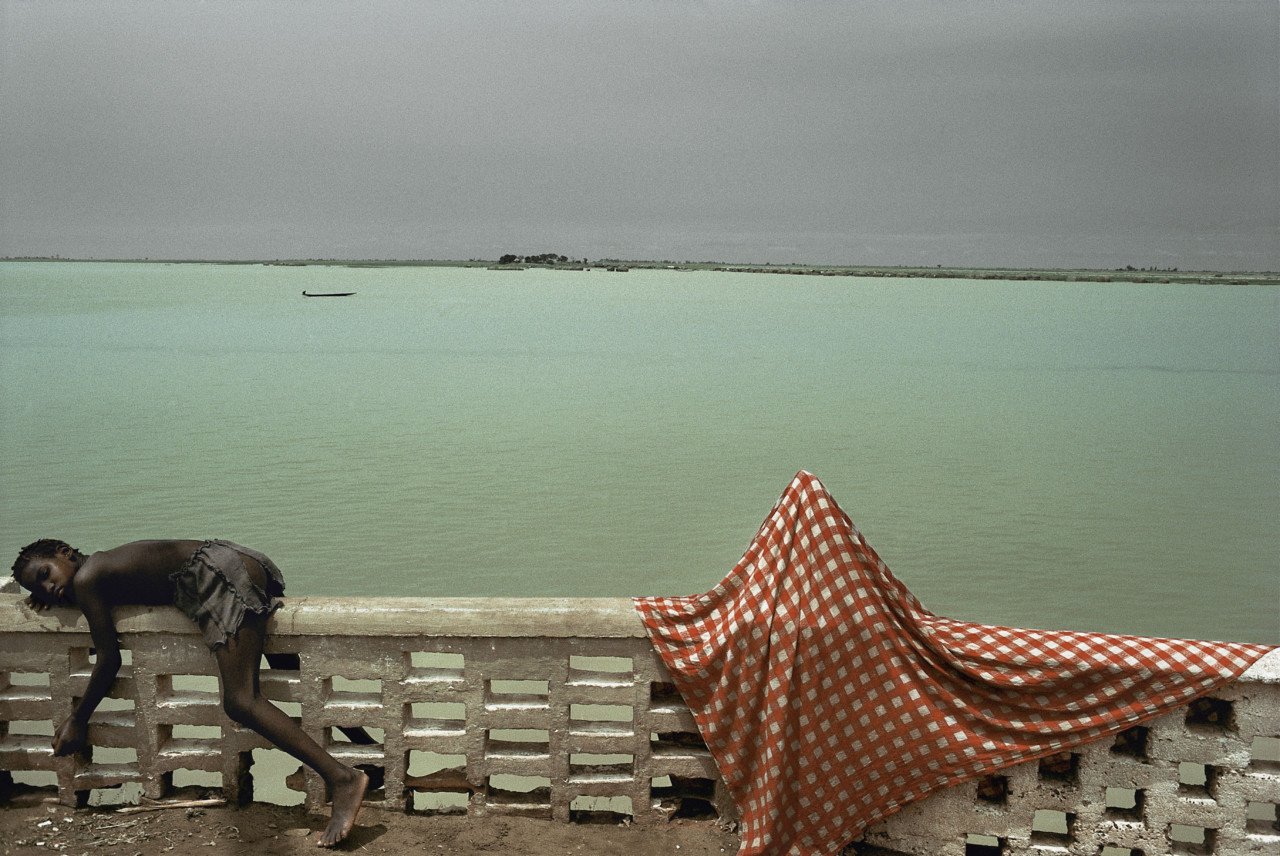 2. Harry Gruyaert – Niger River, 1988
Magnum photographer, Harry Gruyaert, is a master of colour and light. He claims he found it hard to shoot whilst travelling in Africa: "It was my first visit there and, as I shoot in color, I found Africa to be a difficult place to work as the light is so harsh. But I was attracted to the unusual attitude of this boy and to the weird shape of the piece of fabric next to him."
Despite feeling challenged, Gruyaert has still produced a distinct and beautiful image with a surreal element to it. We are given no context as to what is happening with the boy and the strange object next to him. Curious like all Gruyaert's work, he shows us that regardless of being out of ones artistic comfort zone, great work can still be produced.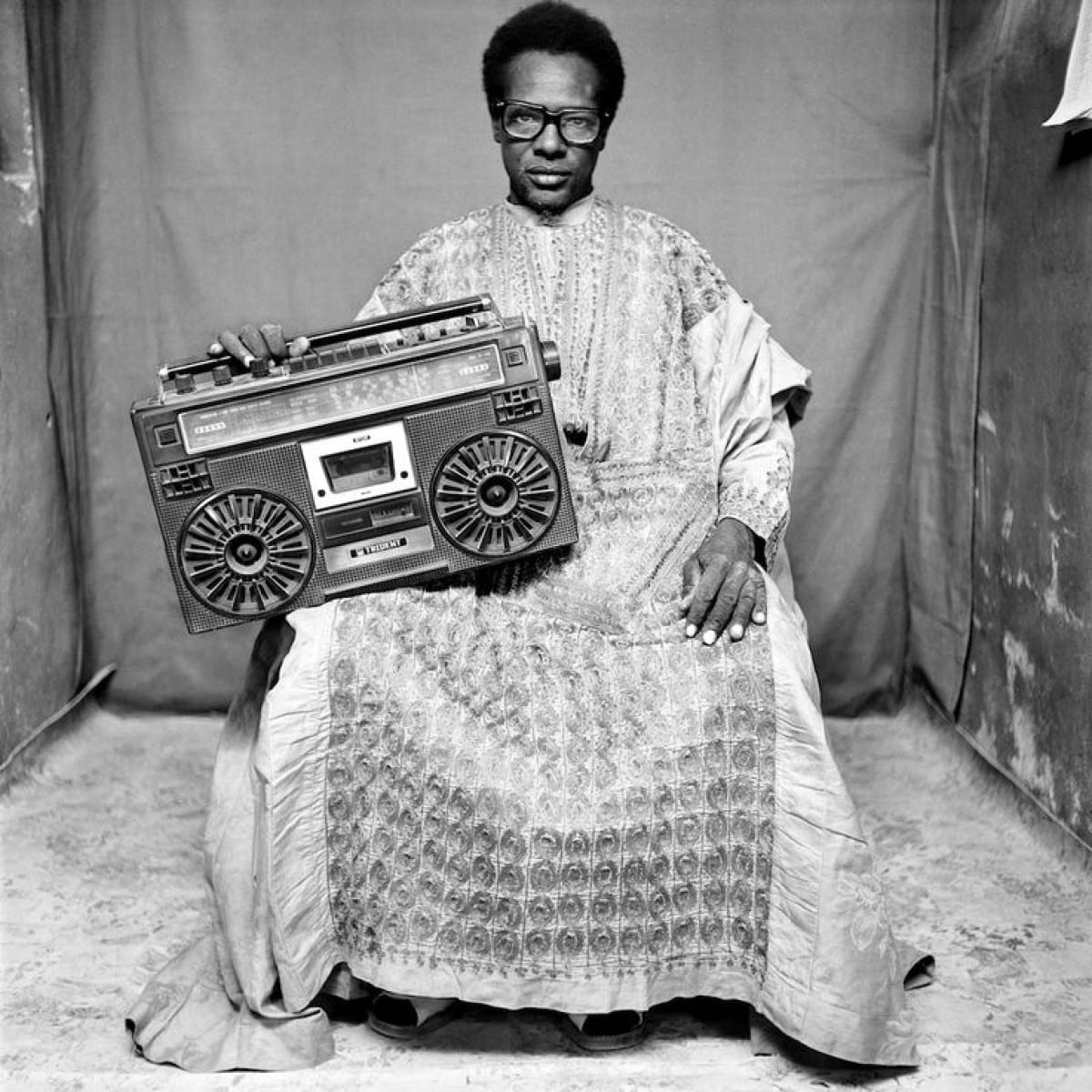 3. Seydou Keita – Tijani Sitou and Pretty Radio, 1978
Seydou Keita, Mali's other superstar studio portraitist, balanced sense a of formality with an acute intimacy with his subjects. His great resourcefulness and talent to improvise is evident in his photos. He'd use household items to create his studio, draping rugs and fabrics over string to create backdrops for his portraits, and furnished his studio with various props, from costumes to Vespas.
Renewing these props every few years gives a sense of chronology to his work. Since he was one of the most well-regarded photographers in Mali, people would often travel to be immortalised in their best clothes, bringing with them their most treasured possessions. His huge archive of over 10,000 negatives came to light in the 90's, earning him worldwide recognition.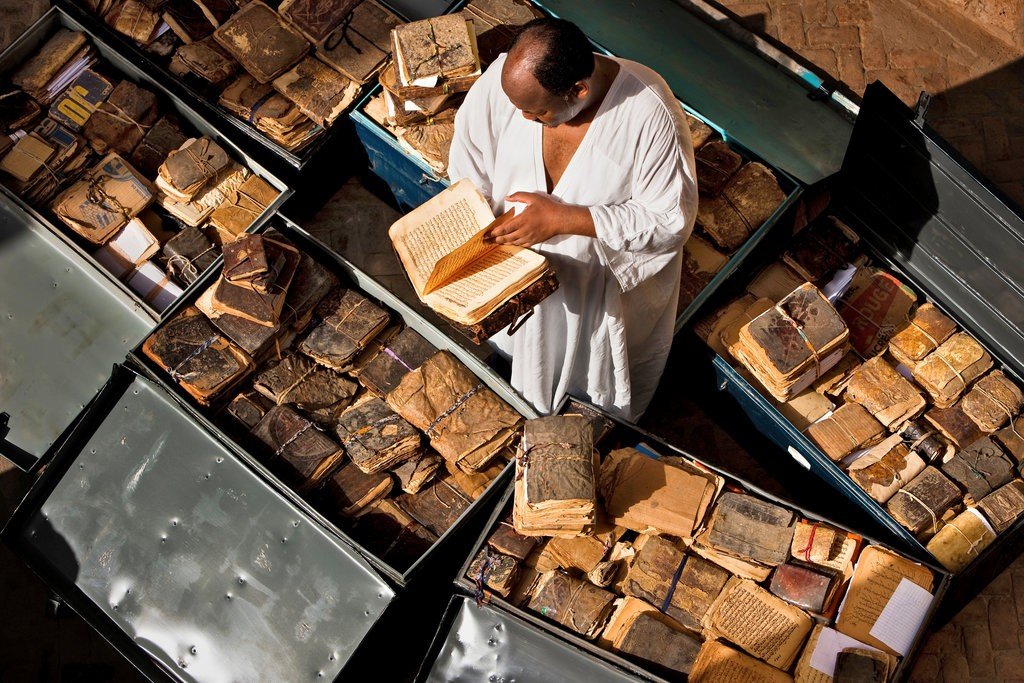 4. Brent Stirton – The Manuscripts of Timbuktu, 2009
– A cache of African manuscripts stored in Abdel Kader Haidara's home, 2009
In this picture we see 1 million manuscripts that were found in the homes and Libraries of Timbuktu. Scriptures covering "all the fields of human knowledge: law, the sciences, medicine", some dating back to the 13th Century. The manuscripts had been passed down in Malian families and were mostly in poor condition, but the monumental discoveries and preservation of these historic artefacts have changed historic readings of African culture. For centuries it has been wrongly taught that Africa had no written history, literature or philosophy (Egypt was branded as "other" than African).
5. Sibylle Bergemann – Timbuktu, Mysterious city of the desert, 2004
German photographer Sibylle Bergemann has captured a moment almost akin to a mirage in this photo. A woman in wild red traverses the empty desert, against a high wind of sand.
In an excess of colour, she almost performs like a dancer in front of the lens. Her red garment signals of the globalised world, traversing through even the most arid plains.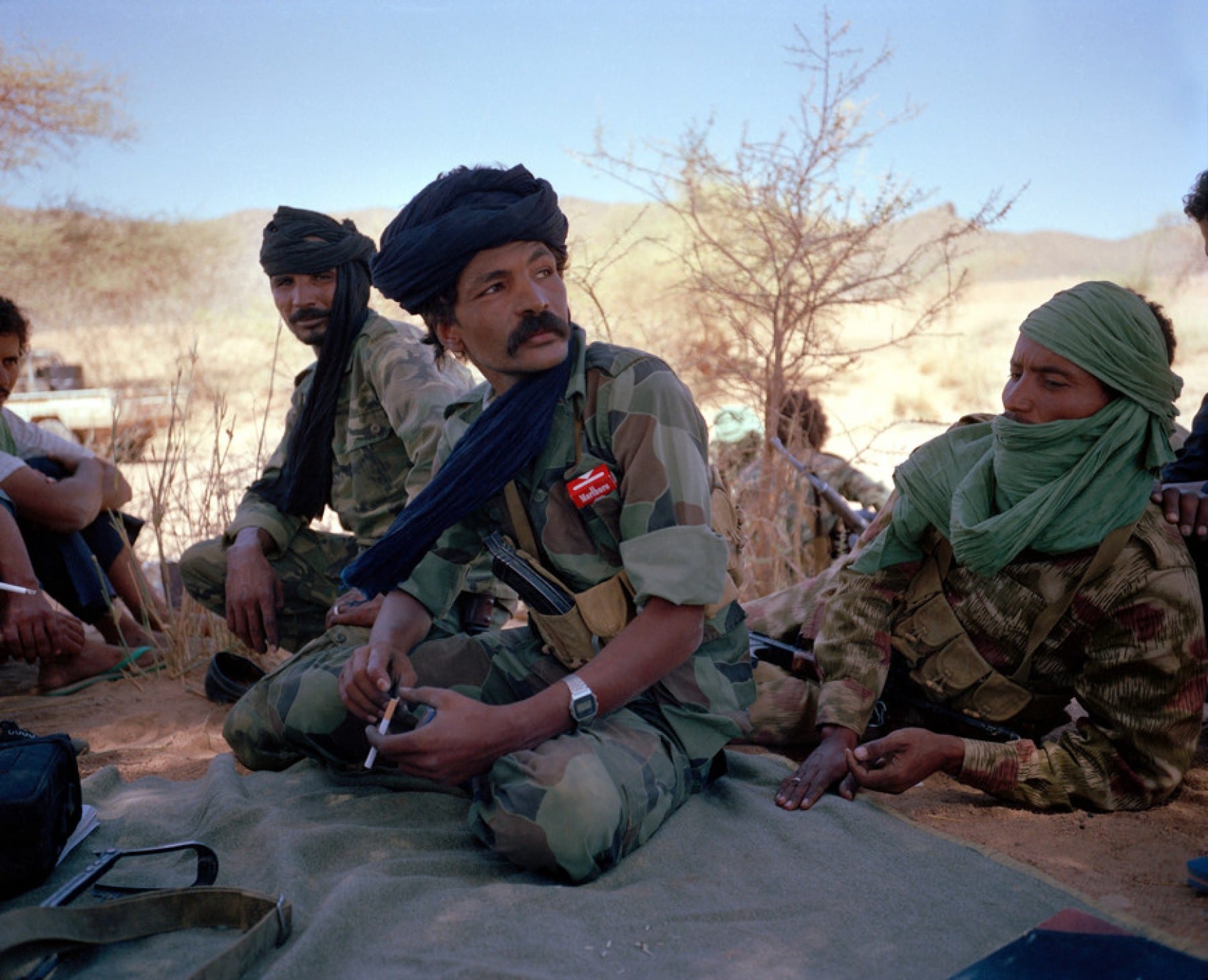 6. Raymond Depardon – Tuareg freedom fighters, 1990
This photograph shows the activities on the northern Mali border between the Tuareg freedom fighters (some of them trained in the Islamic legion of Tripoli) and the troops of the Malian army.
The Tuareg people principally inhabit the Sahara in a vast area stretching from far southwestern Libya to southern Algeria, Niger, Mali and Burkina Faso. Nomadic Pastoralists, the Tuareg have controlled several trans-Saharan trade routes and have been an important party to the conflicts in the Saharan region during the colonial and post-colonial eras.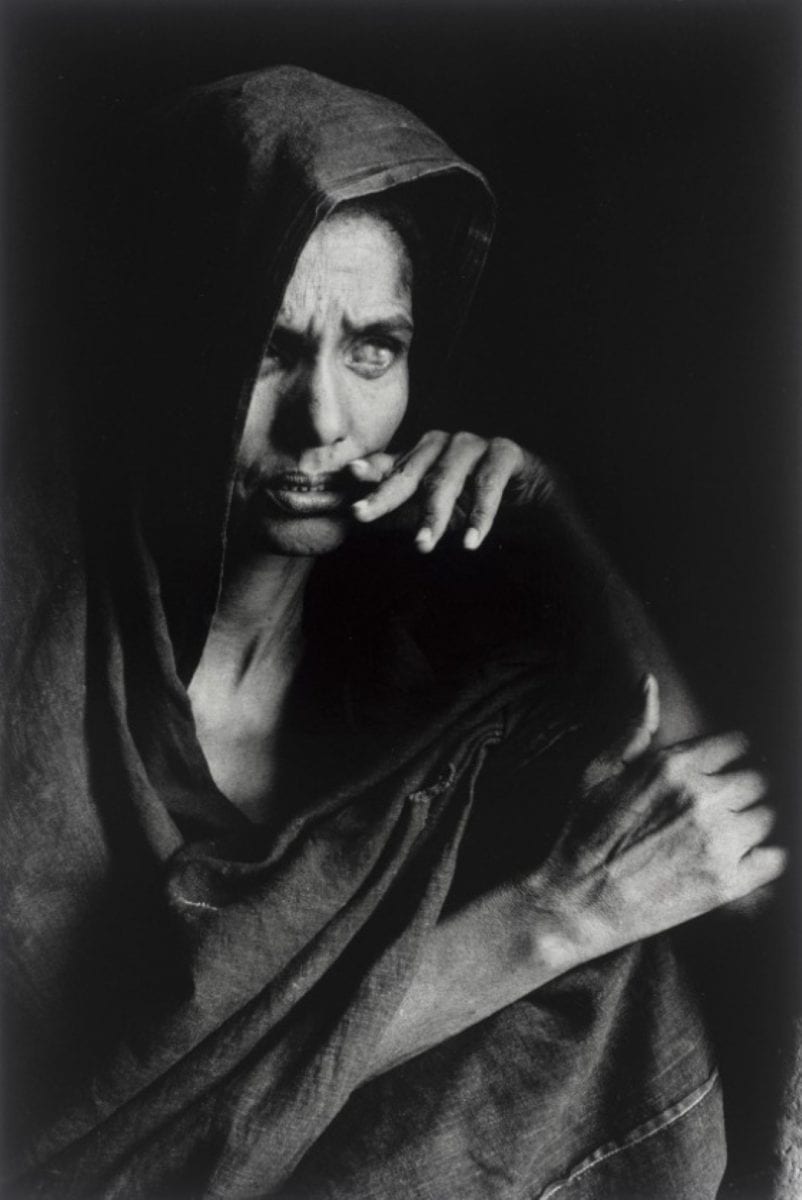 7. Sebastiao Salgado – Portrait of a blind Tuareg woman, 1985
Sebastião Salgado focuses his lens on the adverse results of globalisation, with particular interest in the grandeur of nature and the poor and the powerless. In photos that are both formal and unflinchingly documentary he records his subjects in high contrast analog black-and-white photographs. As he explains: "Each of my stories is about globalization and economic liberalization: a sample of the human condition on the planet today." That condition is one of peril for those at the bottom of the global economy.
In this photograph, Salgado hones in on the taut skin and fierce gaze of this blind tuareg woman. The lighting is such that she looks as though she's disappearing into the shadow. Despite being blind she is communicating something urgent and powerful with her eyes. Her expression has made this photo one of Salgado's most powerful.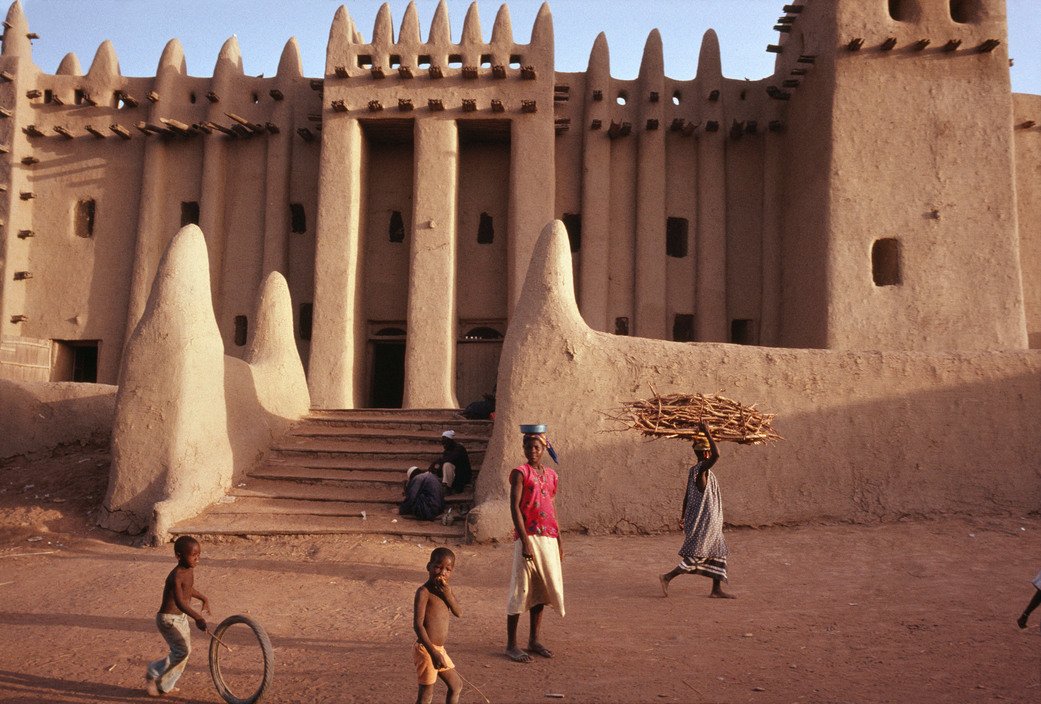 8. A. Abbas – The great mosque, Djenne, 1988
Renowned Iranian photographer Abbas spent considerable time in Mali in the eighties, documenting the UNESCO World Heritage town of Djenné extensively.
The Old Towns of Djenné include nearly 2,000 pre-Islamic mud houses that have been inhabited since 250 B.C. Djenné became a market center and was an important link in the trans-Saharan gold trade during the 15th and 16th centuries. According to UNESCO, it was one of the centers for the propagation of Islam.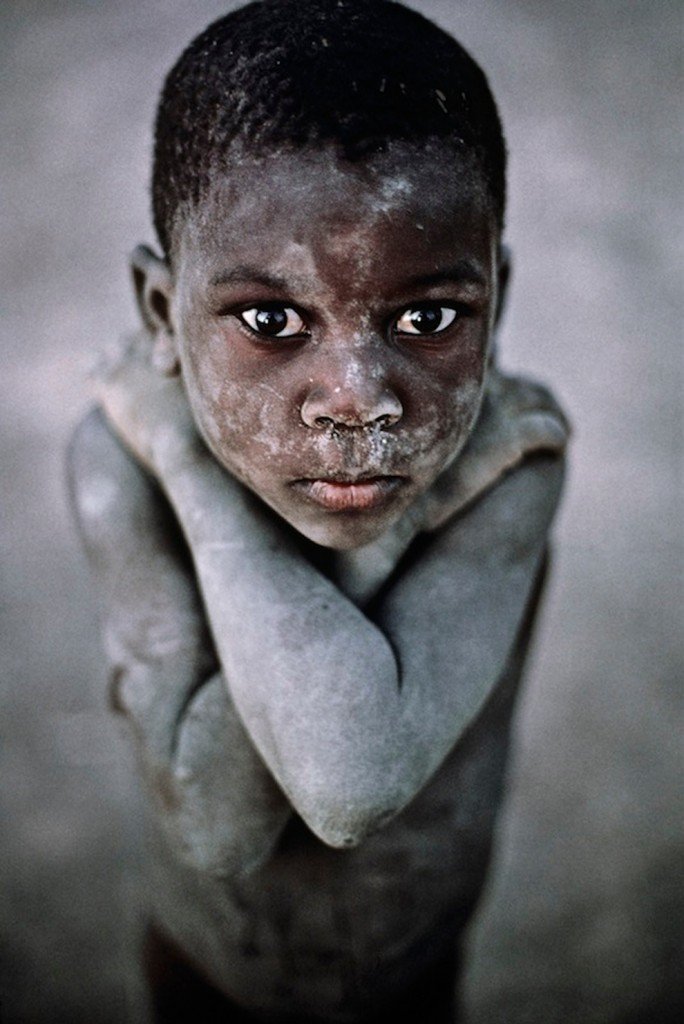 9. Steve McCurry – Timbuktu, 1987
Steve McCurry has spent his entire career capturing natural instances, when his subjects are at ease. He calls this the 'unguarded moment', perfectly encapsulated in this photo, as though the camera were not present at all. Though the young boy is making a protective gesture, his face is totally unselfconscious, inquisitive and curious. McCurry, a master of colour, has captured a rare moment of blue tones in a nation made of sand.
"As a photographer, I am sustained by the rhythms of everyday life: the routines of herding and fishing; the chanting of prayers and the hawking of wares. Where do humans sleep? How do we feed ourselves? How do we keep warm? For me, documenting the infinitely varied ways we meet these fundamental human needs has proven to be a profound journey."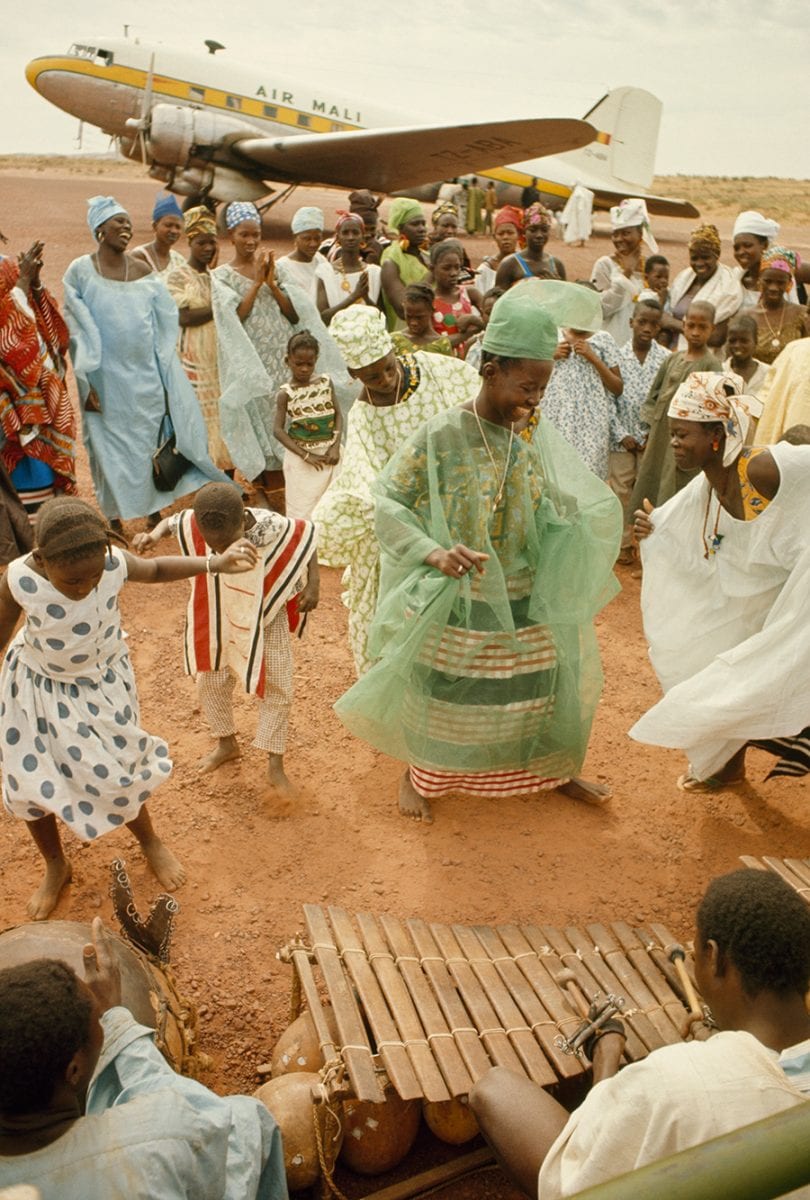 10. James P. Blair – Mopti, 1966
– Women dance to send off a friend on an airplane trip
National Geographic photographer James P. Blair has had an exhaustive career photographing for National Geographic. NatGeo was one of the first international magazines to introduce colour photography in a documentary context. Before this, colour photography had been largely established as a means to advertise. This snapshot captures the Malian love of music and dance, and heralds the dawn of cheaper airfares, connecting Mali to the rest of Africa, and to the rest of the world.
"Life is like a ballet performance – danced only once."
– Malian Proverb
All images © their respective owners