During the 1st Century BC, the peninsula of Italy was the leading cultural, political and religious centre of Western civilisation, with an influence so widespread that it has left its mark in republican governments and the Latin script.
The influence of Italy over the world is so large that it's difficult to convey succinctly, but one thing that can be said for sure is that the Italians really do live 'La Dolce Vita.'
NB: This article contains images which may be distressing to some readers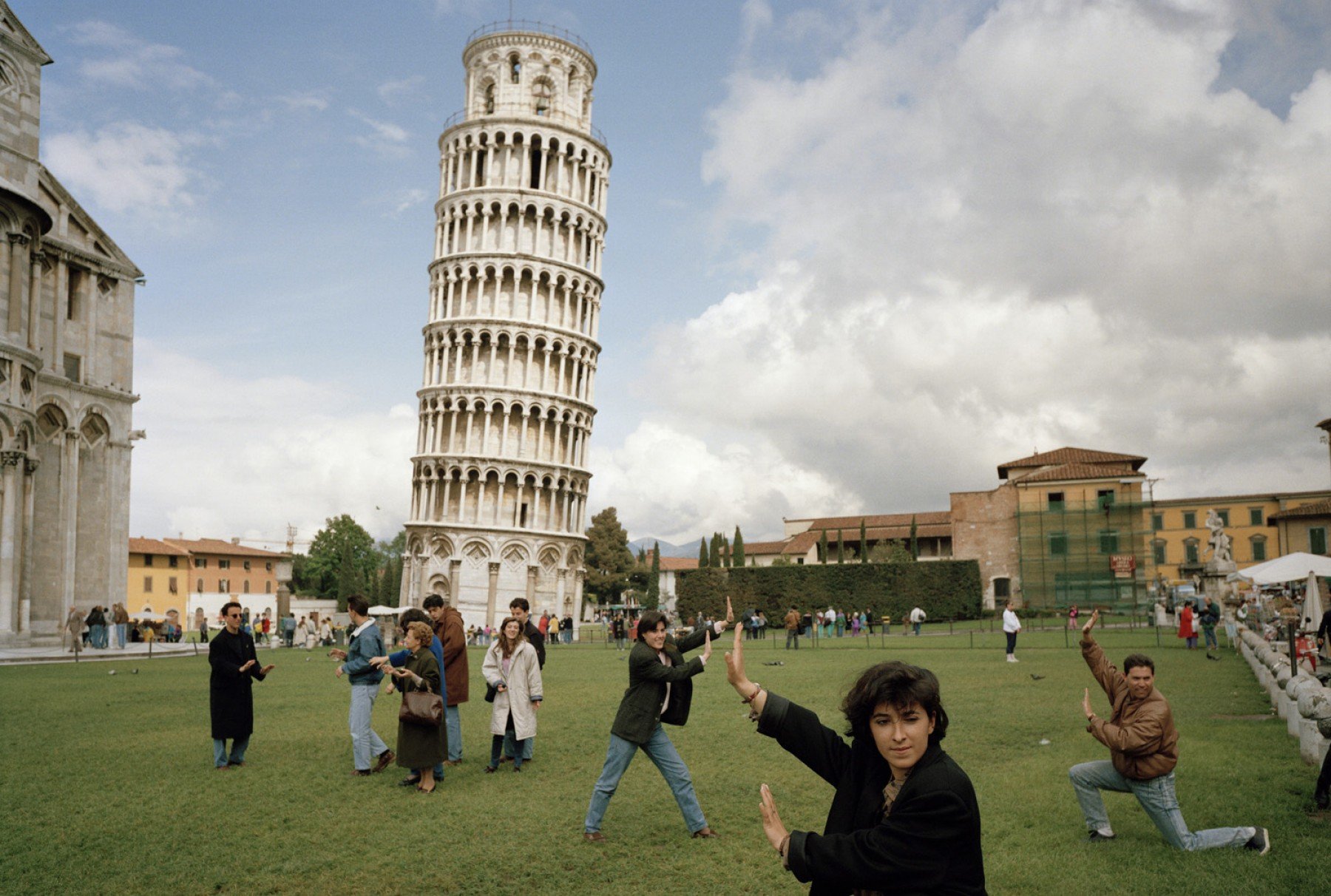 1. Martin Parr – The Leaning Tower of Pisa, Pisa, 1990
Martin Parr's photographic research explores the rites of mass consumption and of tourism, and his series Small World, describes aspects of this phenomenon in the streets of Italy. This classic image is tinged with Parr's unique wit and energy, whilst also providing a commentary on the rise of globalisation, and prompting us to ask ourselves questions about why we photograph. By presenting Pisa as a prop in these people's photos, he masterfully shifts our gaze from this iconic landmark to the tourists that inhabit the frame.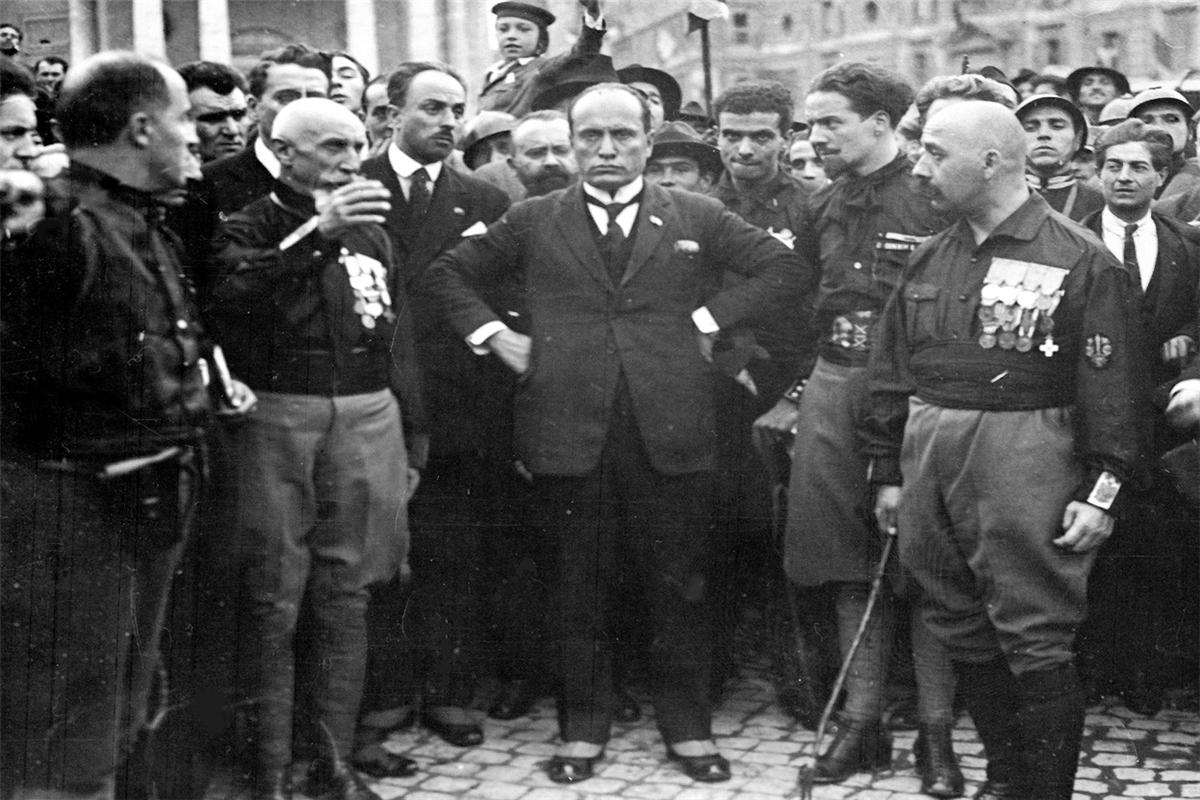 2. March on Rome, Italy, 28 October 1922
This incredibly famous image depicts Benito Mussolini as he seized power in an insurrection in Italy in October 1922. The March on Rome marked the beginning of fascist rule and the downfall of parliamentary socialist and liberal regimes.
Born out of widespread social discontent and aggravated by the middle-class fear of a socialist revolution, an atmosphere favourable for Mussolini's rise to power loomed over Italy. On 24th October 1922, Mussolini marched into Rome with fascist armed squads known as 'Blackshirts' and strategically seized control over the city. The events that ensued in the following days led Mussolini to gain full parliamentary control over the nation.
3. Herbert List – Park of the Palazzo Orsini, Bomarzo, 1952
Once the photographer is dead, only their photos remain- what lies outside the frame dies with them. Though this image has a dreamlike quality, conveying a feeling of magic and solitude, as viewers, we cannot tell more about the boy and his circumstances. On the rare occasion that the subject comes forward to talk about an image, it opens new readings and can give us a true insight into the personality of the photographer themselves.
This image of a young shepherd in Bomarzo is such an example. After the book was published, the young boy in the photo was recognised and came forward to talk about his experience being shot by Herbert List. Despite being taken 40 years earlier, when he was only 12, the boy (an orphan from Southern Italy) said he remembered List very well. He said that List had been the first adult to listen and genuinely take interest in the sad stories of his childhood.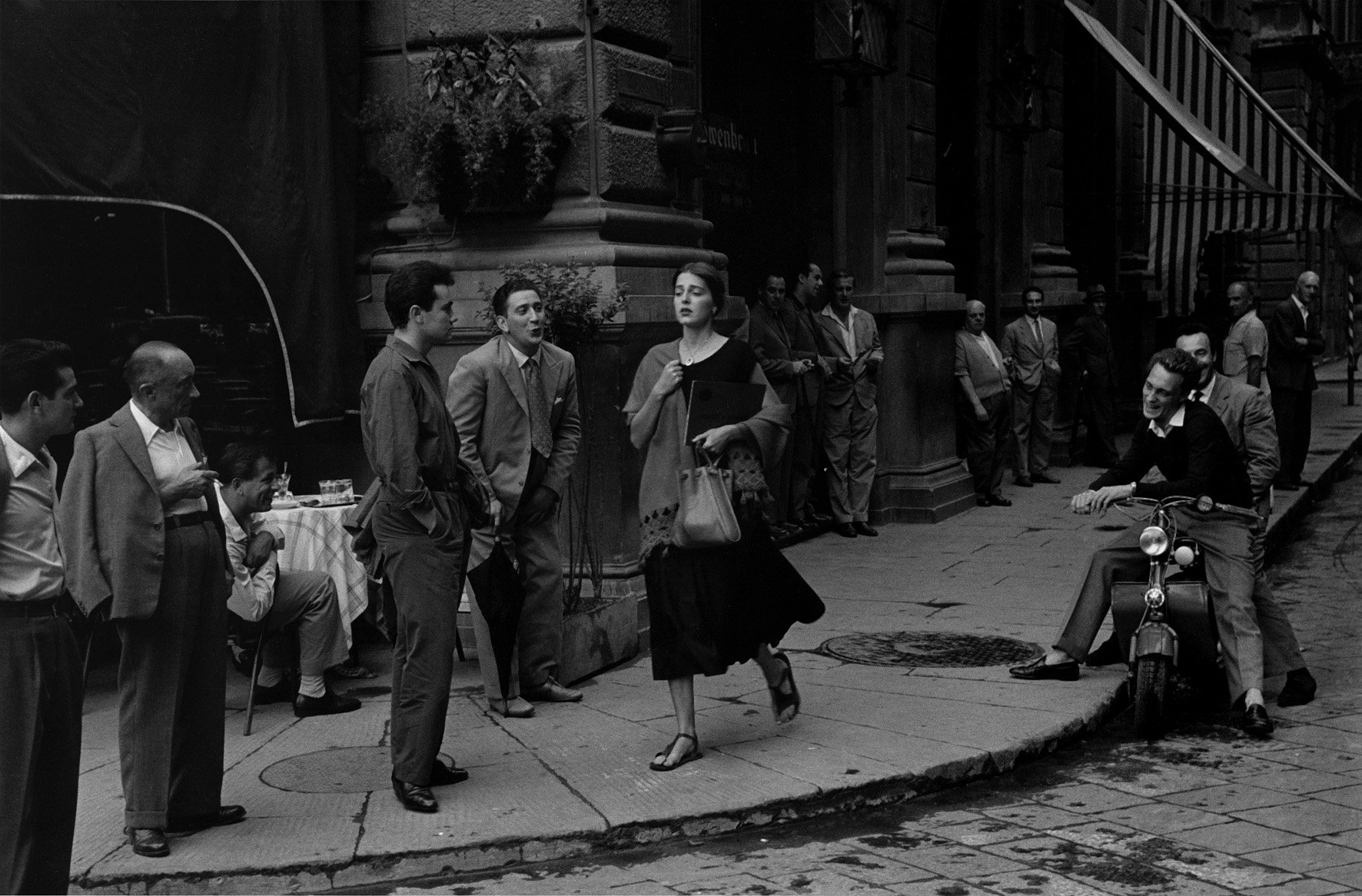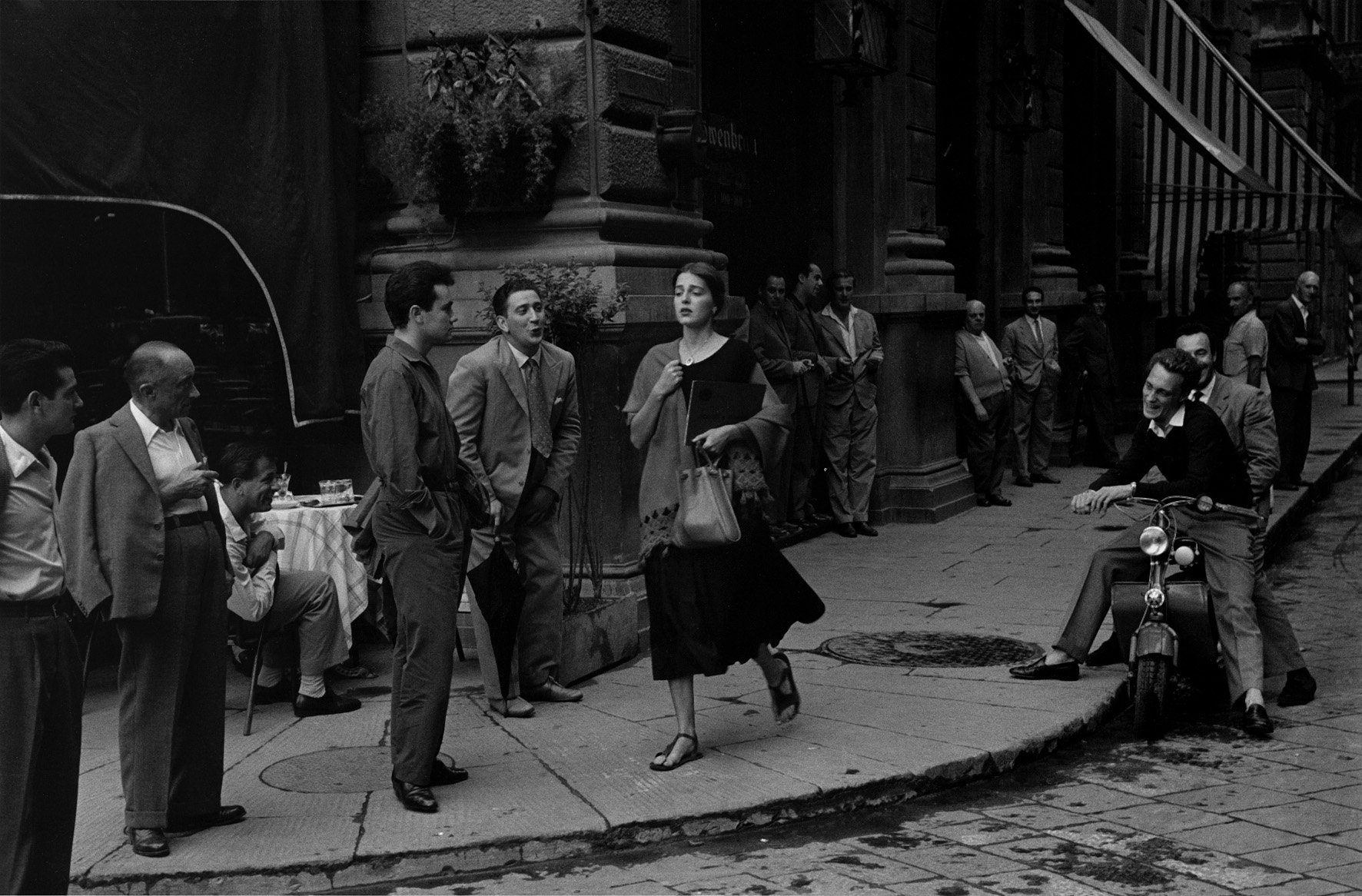 4. Ruth Orkin – American Girl in Italy, Florence, 1951
In Florence, aspiring writer and photographer Ruth Orkin had met Ninalee "Jinx" Allen Craig, an art student and fellow American who became the model for a series Orkin originally titled Don't Be Afraid to Travel Alone. Based on their joint experience as women traveling alone in Europe in the 1950s, the photo essay provided some cautionary words, but mainly served as a guide for young women with dreams of conquering the world.
This single shot speaks immense volumes about the culture of street harassment which is still sadly extremely prevalent today. Young women everywhere will be able to relate to Jinx Allen Craig, the lone woman in a sea of jeering men. Craig said of the experience: "I clutched my shawl to me because that sheaths the body, it was my protection, my shield." Orkin's decision to publish this photo in a series meant to inspire young women to travel is an interesting decision. It serves as a message that women should not allow men to stop them from seeing the world.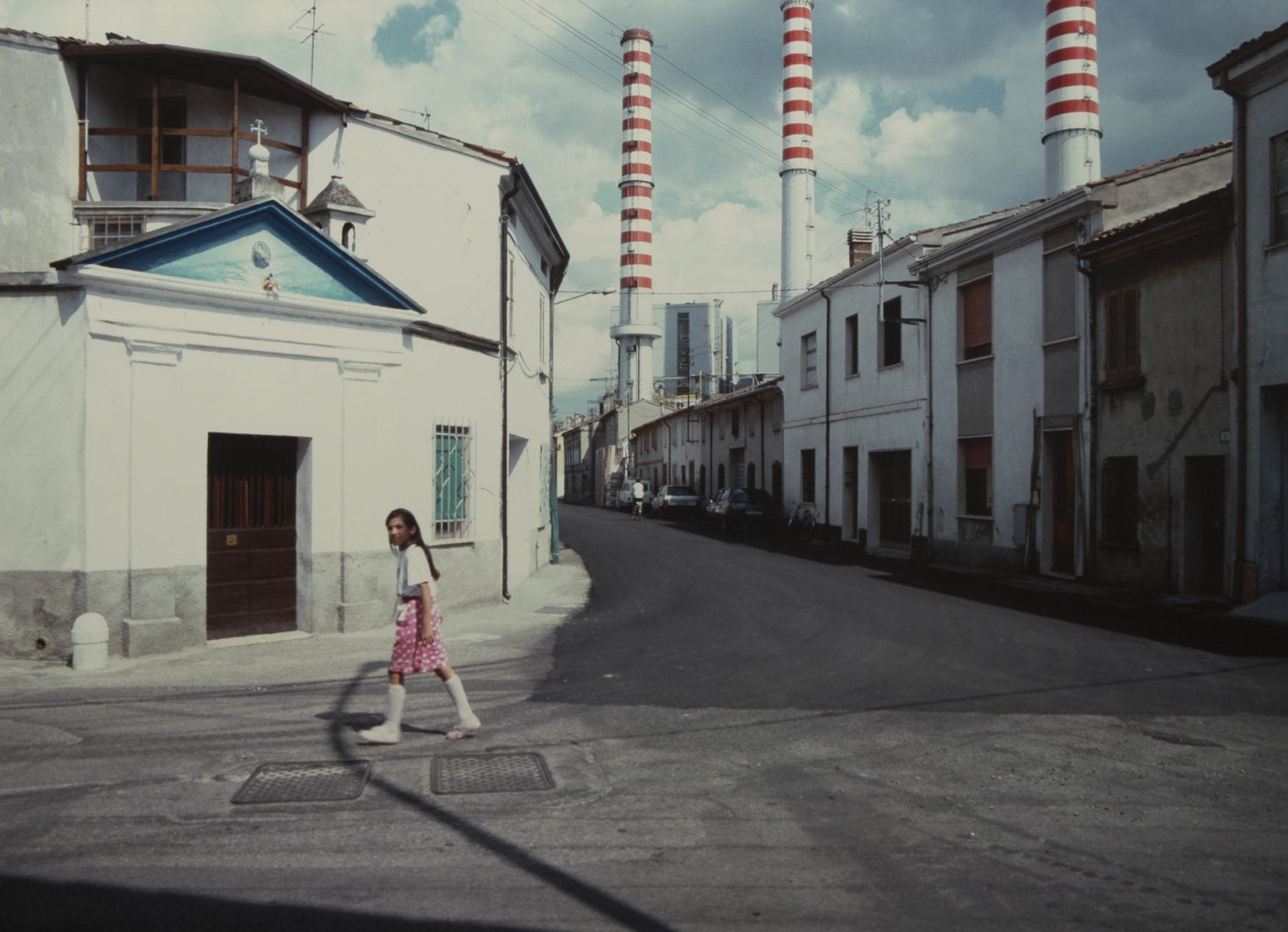 5. Luigi Ghirri – Centrale Elettrica (Power Plant), Ostiglia, 1987
Luigi Ghirri spent his life in Emilia-Romagna, a region in northern Italy where he produced one of the most important works of minimalist photographic works in history of modern photography.
A photographer of the urban landscape, his work draws parallels with the quiet landscapes of Stephen Shore and William Eggleston. Working extensively with kodachrome, Ghirri's pastel coloured Italy is a calm and sundrenched terrain which almost presents the nation as a series of tropes. Ghirri posthumously received numerous awards after his death in 1992 and his work has been acclaimed and exhibited internationally.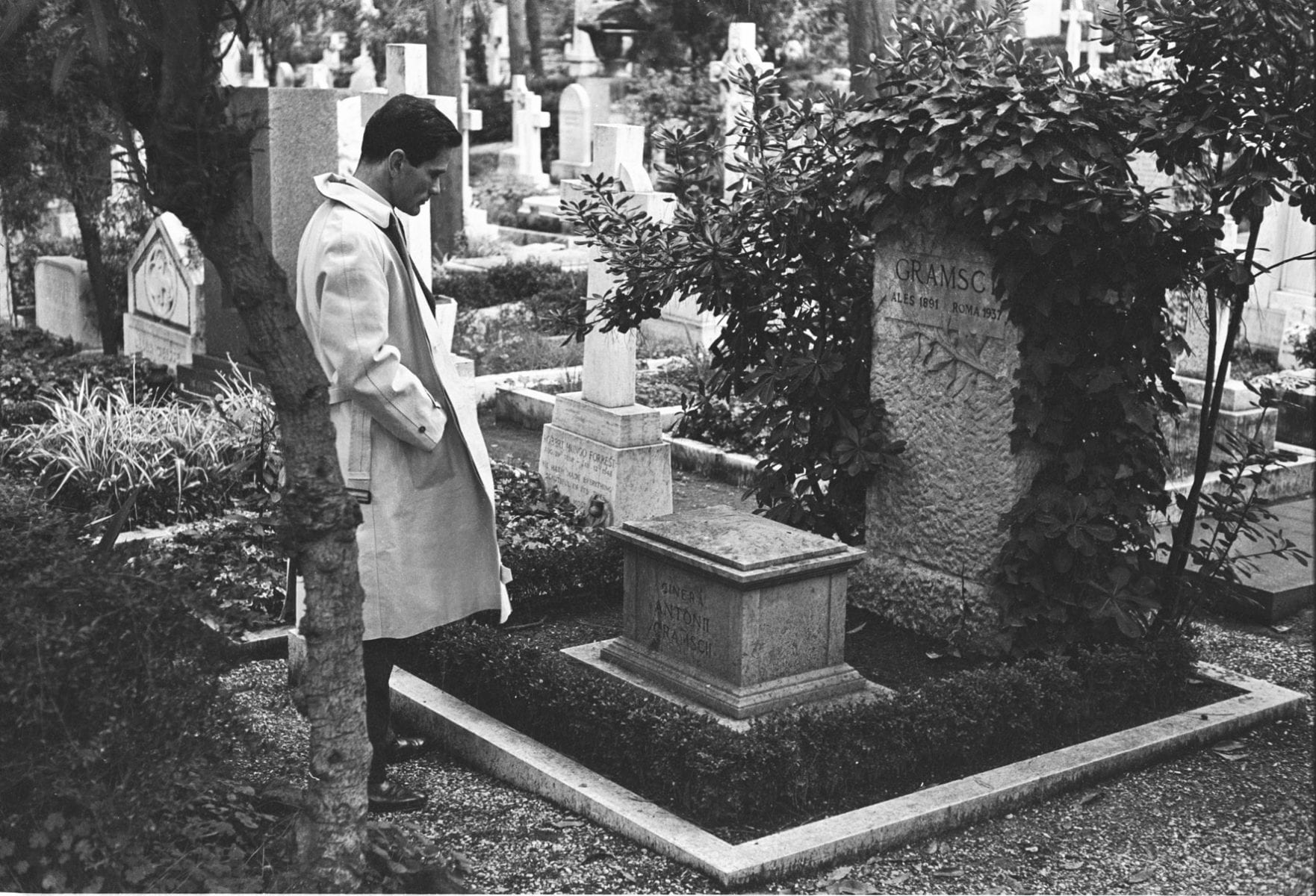 6. Paolo Pasolini at the grave of Antonio Gramsci, Rome, 1954
Pasolini was a champion of the damned of postwar Italy, a defiant Marxist and provocative artist who polarized the nation- his novels, films and poems focussed on forgotten voices and the disinherited as well as meditating on themes such as politics, religion and sexuality. He mingled his fierce Catholicism with an intellectual leftism and in doing so opened up the discourse between religion and Marxism.
In this image, Pasolini visits the grave of Marxist philosopher Antonio Gramsci, a former leader of the Communist Party of Italy imprisoned by Mussolini's Fascist regime. Gramsci wrote more than 3,000 pages of history and analysis during his imprisonment and his Prison Notebooks are considered a highly original contribution to 20th century political theory.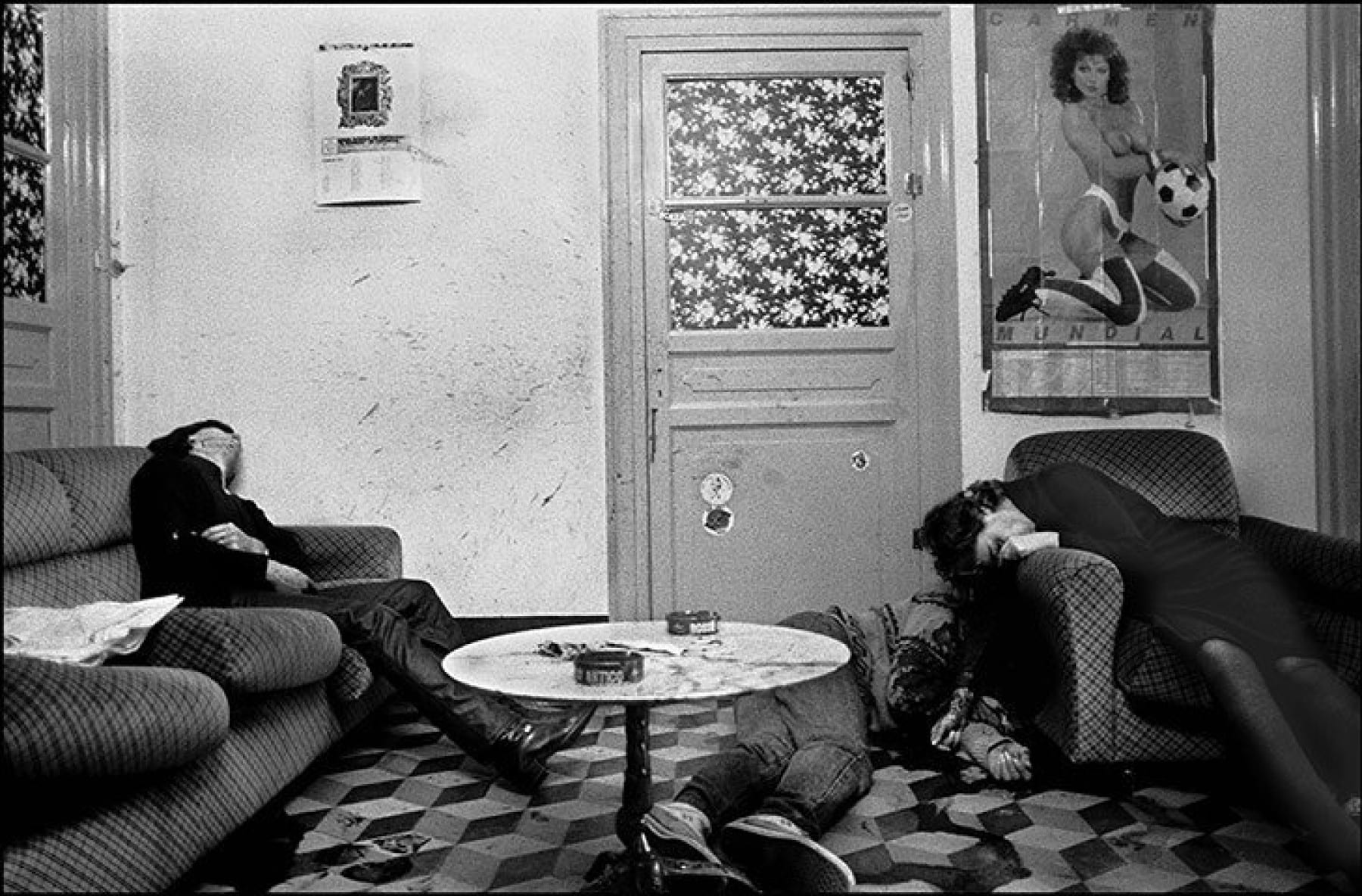 7. Letizia Battaglia – The triple murder of a prostitute and her clients, Palermo, 1982
During the height of the 'anni di piombo' ("the years of flying lead"), Italy was a lawless state, whose only form of 'governance' was enacted the brutal Corleonesi mafia clan, who claimed the lives of countless politicians, senior policemen, other mafia families and anyone who showed any opposition towards them.
Letizia Battaglia, who has now become famous for her depiction of the mafias ferocious reign in those years of terror, was always on call. "Before you'd even dealt with the desperation and suffering of one murder, you were already on the way to another. More blood, more violence", Battaglia explains. Battaglia's photos are urgent and grainy, not pretty, but meant for a purpose- not just a job, but her duty as an Italian citizen.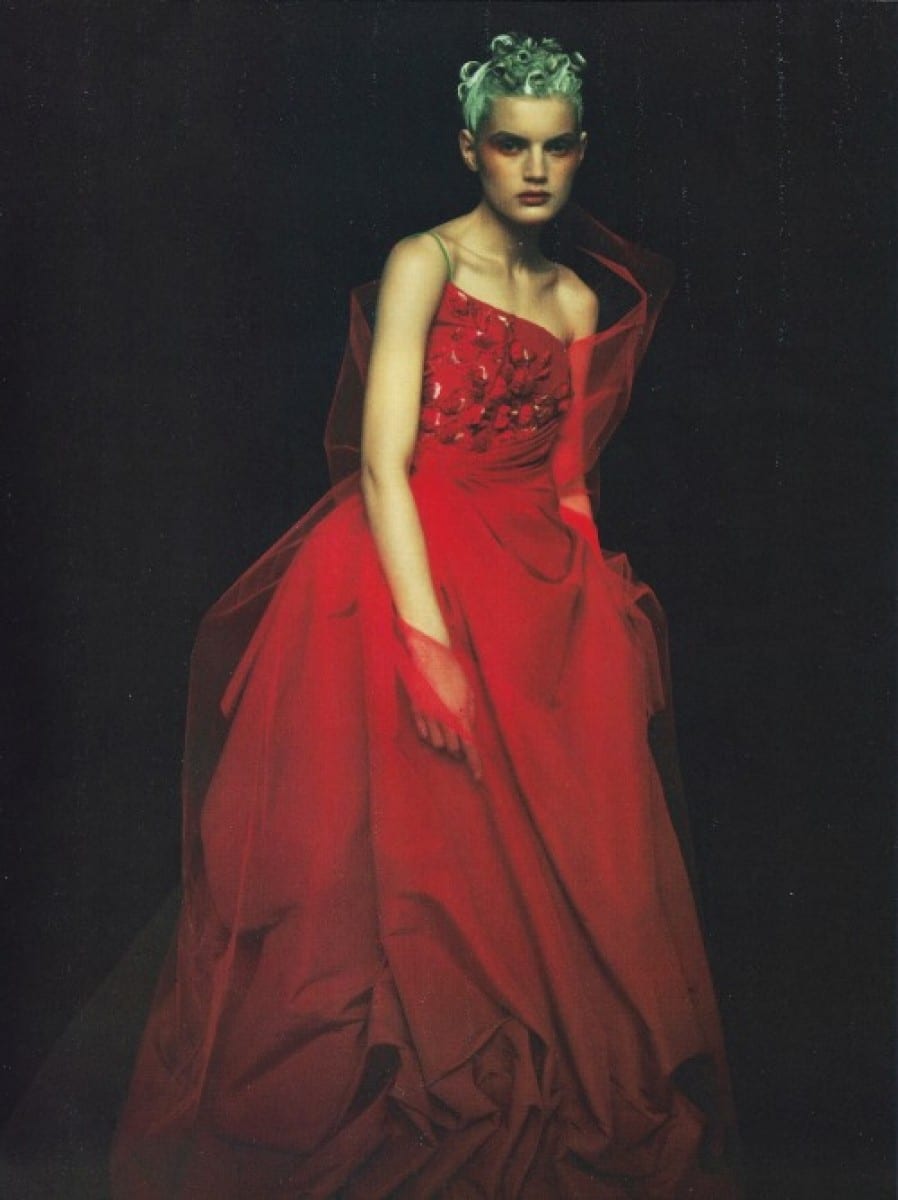 8. Paolo Roversi – Guinevere van Seenus for Vogue Italy, 1996
Roversi's interest in photography was kindled as a teen when he decided to set up a dark room in a cellar with a childhood friend. Together the friends would develop and print their own black and white work. Roversi later went on to do an apprenticeship with a local photographer, which convinced him this was the profession he should pursue.
Roversi, inspired by Avedon, Penn and Bourdin began making work that was more in the realm of the fashion industry, and realised he had a talent for this. Since his realisation he has gone on to become one of the most applauded fashion photographers of our time. His work with Vogue Italia is legendary, as are his images featuring his muse, Guinevere van Seenus, seen here in soft red. Roversi's photos play with depth and shadow to create nostalgic images harkening back to the late 19th century.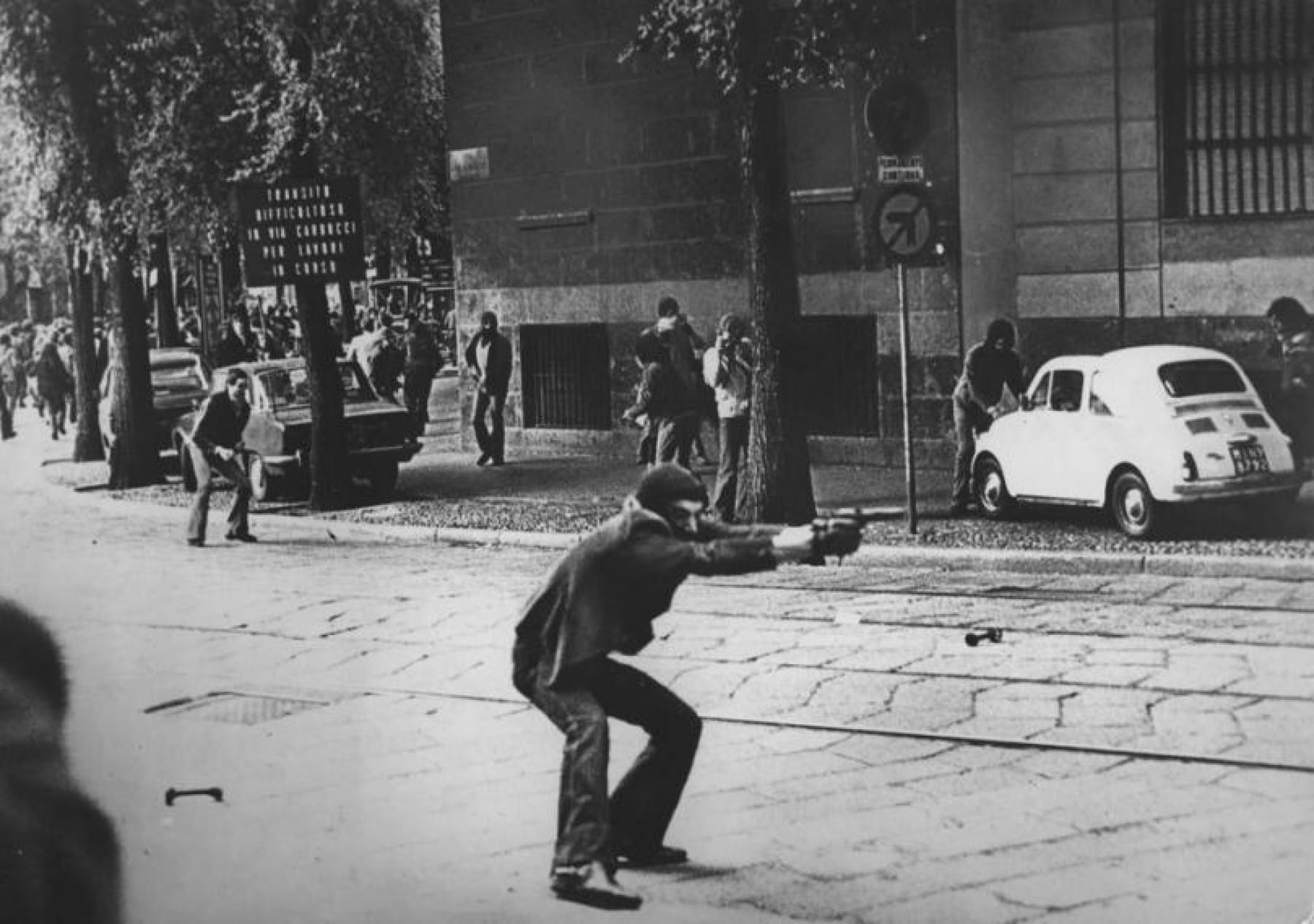 9. Paolo Pedrizzetti – Milan, May 14, 1977
"Remember this image, it will become exemplary of our century." – Umberto Eco
The conflicts of 1977 began with a student occupation at the University of Rome to protest education reforms.This quickly escalated into a fully-fledged guerrilla battle with the police on the streets of Rome. The conflicts spread to other Italian university towns and trade unions and political parties were also dragged into the conflict. After a student was killed during a demonstration in May, riots broke out.
This photo was taken by Paolo Pedrizzetti in Milan during the riots. It depicts a young man in a ski mask who was a member of a far-left organisation who turned their guns against the police, killing officer Antonio Custra on May 14th '77. The image became synonymous with The Years of Lead, and spoke of the culmination of years of struggle between neo-fascists and the radical left to control the political future of the Italian Republic.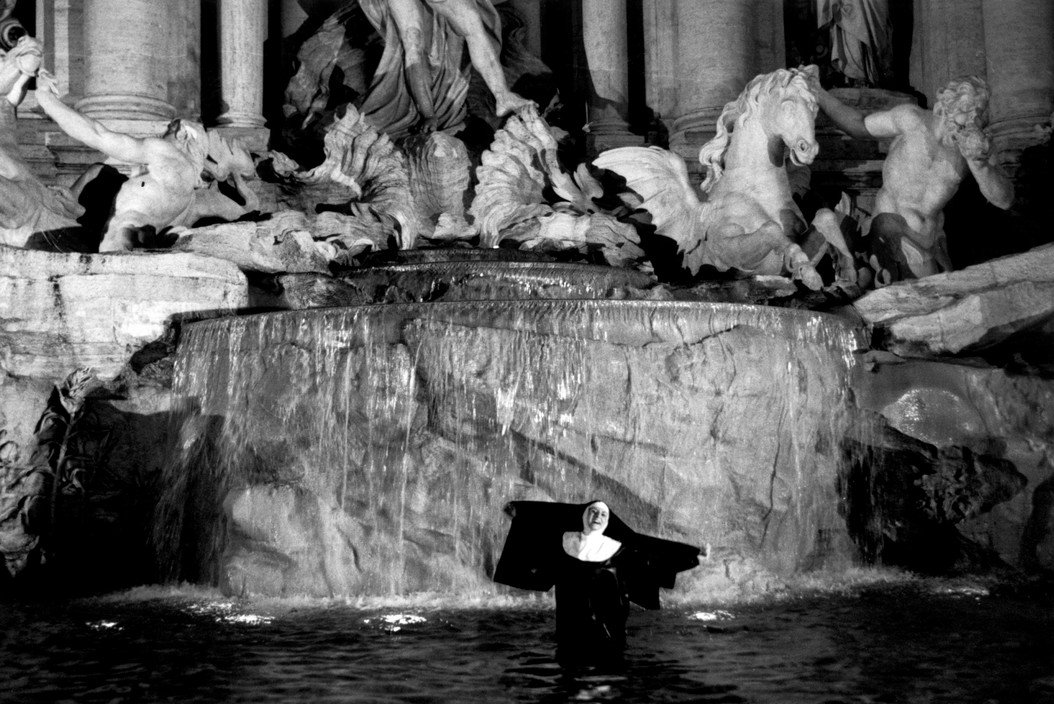 10. Ferdinando Scianna – Nun in Fontana di Trevi, Rome, 2000
Scianna's image of a nun dancing in the Fontana di Trevi is reminiscent of the famous scene in the seminal Italian film, Federico Fellini's La Dolce Vita, starring Anita Ekberg. Drawing inspiration from the scene in which Ekberg provocatively bathes in a fountain, Scianna has subverted the roles and replaced the Hollywood icon with a nun. Nothing gets more Italian than that.
"A photograph is not created by a photographer. What they do is just to open a little window and capture it. The world then writes itself on the film. The act of the photographer is closer to reading than it is to writing. They are the readers of the world." – Ferdinando Scianna
All images © their respective owners